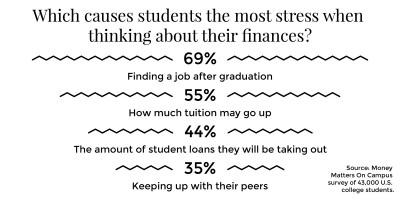 As students take out loans to fund their education, more are reporting feeling stressed and unprepared to deal with a lack of financial management skills or planning, a study released April 2 found.
The report, conducted by financial information provider Higher One and educational website EverFi, surveyed 43,000 first-year undergraduate students about their knowledge of banking, savings, credit cards and student loans, according to an April 2 press release.
Approximately 58 percent of students at four-year universities reported feeling prepared to manage their money, according to a survey performed as a piece of the report.
Mary Johnson, vice president for financial literacy and student aid policy at Higher One, said colleges and universities should provide more financial education to help alleviate some of their students' financial stress.
"We're hoping that schools will be more proactive in providing opportunities for more financial education on campus, particularly students when they first get on campus … for students to learn how to manage their money, learn how to manage their budget, learn how to manage their bank account in addition to all their other academic issues and endeavors," she said.
Four-year students reported feeling the most stress over their financial behaviors, the rising cost of attending school and finding a job after graduation, the report stated. Approximately 48 percent said applying for financial aid and receiving enough financial aid is stressful.
Boston University spokesman Colin Riley said approximately 52 percent of BU students take out loans.
The university offers scholarships and grants in financial aid packages while the federal government issues loans, Riley said.
"Most important, of course, is that you have a full understanding of what your repayment will be if you borrow at a fixed rate," he said. "The [interest] rates are lower now than they've been in decades."
Federal loans account for approximately $14 million of the nearly $180 million of the financial aid awarded to students in the 2013-14 academic year, the most recent version of the Boston University Common Data Set stated. Private loans accounted for $44 million of the $50 million in self-help for undergraduates.
Overall BU students fare well in loan repayment, Riley said.
"Each person's case is different," he said. "If you're one of the ones on the high end of borrowing that you know, you're making more sacrifices, but people manage and it makes sense. Again, you're making an investment [in college], and it costs money to do that. You're going to benefit from it over a lifetime."
Approximately 2.5 percent of students "defaulted on their Federal student loans within three years of entering repayment," compared to the 14.7 national average, according to BU's college scorecard on the White House website.
BU offers students resources through the Financial Assistance Office to seek counsel in handling their federal student loans, which can be viewed on the financial assistance website, Riley said.
Several students said loans and debt are important issues, but they do not really think about them as much as they could.
Andy Sloan, a junior in the College of Communication, said he knows that BU offers financial management services for students, but it may help for the services to be advertised more often. Loans are not always a main priority for current students, he said.
"I'm definitely one of those people who has taken out a lot of loans, and I'm going be in debt probably for the rest of my life, but BU, I just feel like you have to be so involved," he said. "I am, but at the same time, I don't think of finances because that's something that you just push off."
Bryan Russo, a graduate student in the Graduate School of Arts and Sciences, said he fortunately has not had to take out student loans that have put him in debt, but he sympathizes with those who have large amounts of debt.
"I know a lot of friends who graduated two years ago who have really, really high amounts of debt and are just not equipped to get well enough paying jobs to make it okay," he said. "It really cripples them because they have to either live at home, which means they go back to places where there aren't a lot of jobs."
Spencer Bolling, a freshman in the College of Arts and Sciences, said the university should help educate students about being financially literate.
"For college students in general, it's always hard to manage your money, even if you don't have financial loans," she said. "It would be a good idea for BU to offer services like that, because I know that it's very hard to come out of college and have to be in debt, and so if kids learned how to manage their money well in college, it would benefit them after college."