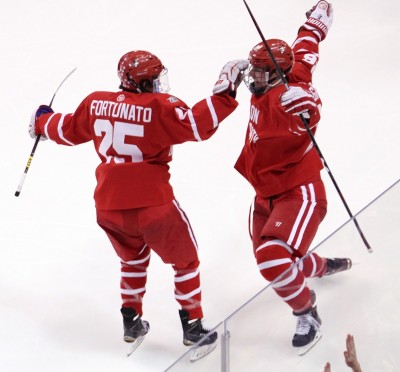 Of course, there was the Jack Eichel show in Thursday's national semifinal matchup between the Boston University men's hockey team and the University of North Dakota. The star freshman center and Hobey Baker Memorial Award finalist dazzled at TD Garden, notching his 70th point of the season with a pair of goals and an assist.
That's been the story time after time for the Terriers this season, but that was just a fraction of the story in BU's 5-3 victory. Eichel was one of 10 skaters to record a point for the Terriers en route to their first national championship appearance since 2009 — and many of those points came from a few unusual suspects.
Sophomore defenseman Doyle Somerby scored his first goal of the 2015 season — and the second of his career — at the 13:10 mark of the second period. With his goal, every BU skater who has played at least 25 games this season has recorded a goal.
BU head coach David Quinn noted that in particularly the past few games, the team has tried to include its defensemen more on offense.
"We hoped our D would be involved a lot in the offensive zone," Quinn said. "He [Somerby] has done a great job this last month. Doyle has been really active in the offensive zone, and it's finally great to see him get rewarded."
The goal of involving defensemen on offense certainly came into play against North Dakota (29-10-3). Freshman defenseman Brien Diffley had two assists on the night, while junior captain and defenseman Matt Grzelcyk notched a helper of his own.
Somerby, whose goal was assisted by Diffley, had plenty of praise for his defensive partner.
"His confidence has just continued to rise," Somerby said. "He has a great skill set, and it's nice to see him hit his stride at the right time."
Another BU player, freshman forward A.J. Greer, was perhaps an unexpected hero on the night. He recorded his third goal of the season and his first since BU's Jan. 3 matchup against Union College.
Greer's goal came at a crucial point in the game — momentum had swung heavily in favor of North Dakota, and BU's lead had been cut to 2-1 with UND dominating possession. The tally from Greer, however, pushed BU's lead back to two goals.
In recent games, Quinn has moved Greer to play left wing on the second line, coupled with senior assistant captain Cason Hohmann and junior forward Ahti Oksanen.
"He's had his ups and downs like most freshmen do," Quinn said. "I thought Hohmann and Ahti really could have used his speed and his strength. And he's got a good skill set. I just thought it gave us the best-looking lineup when we made that decision, and it's been a good line."
Other under-the-radar contributors in Thursday's victory included sophomore forward Robbie Baillargeon, who snapped a five-game point drought with an assist, and freshman forward Brandon Hickey, who added his first goal since Feb. 13 with his first-period tally.
With the nation's top two scorers on their squad — Eichel and senior assistant captain Evan Rodrigues (61 points) — and also the ninth-ranked scorer in junior forward Danny O'Regan (49 points), it's perhaps easy for some of the Terriers' other players to get lost in the shuffle.
But as Quinn reiterated at the post-game press conference, it's the team's depth that has vaulted BU to a shot at a national title, which the team will attempt to attain on Saturday against Providence College.
"When you've got guys scoring at the rate that Jack and E. Rod and Danny are, they obviously get a lot of attention, and rightfully so," Quinn said. "But we wouldn't be here if we were a one-line team."