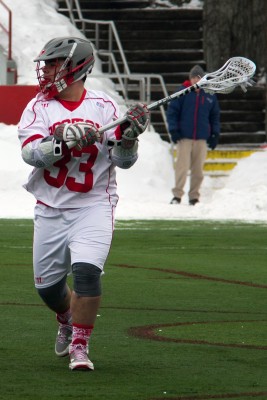 In what marks the second contest of a three-game home stretch, the Boston University men's lacrosse team will welcome No. 19 Loyola University-Maryland to Nickerson Field on Saturday afternoon.
The Terriers (6-5, 3-3 Patriot League) are entering the contest on a three-game losing streak and the tail end of a bitterly narrow 9-8 loss on Tuesday to Harvard University. Harvard (6-5) may have emerged victorious, but BU performed strongly across all 60 minutes and showed signs of rounding back into form after suffering lopsided losses to the United States Naval Academy and the No. 13 United States Military Academy.
Instead of relying on isolated individual performances, the Terriers received contributions from all over the field on Tuesday. Sophomore goalkeeper Christian Carson-Banister notched an impressive 15 saves, sophomore faceoff specialist Sam Talkow won 16 of his 21 draws, and BU's attack corps of freshman Ryan Hilburn, freshman Jack Wilson and sophomore Adam Schaal combined for six goals and two assists. Moreover, BU coach Ryan Polley said his team found its identity again.
"It was really important for us just to play well as a team and in all facets of the game," Polley said. "We faced-off well again, we got good goalie play, we cleared the ball excellently, defended against Harvard's great offense pretty well, and got eight goals. We played well enough to win it and didn't, but more importantly we got our mojo back."
With its mojo back, BU once again played as a cohesive unit. Playing a major role in that was the fact that the Harvard contest was a midweek one and served as a swift opportunity to perform well again.
The Terriers had previously dropped a 14-6 decision to Navy (7-4, 5-2 Patriot League) on March 28 and fell 17-8 defeat at the hands of Army (8-3, 4-2 Patriot League) this past Saturday. Polley said those two harrowing defeats fueled the team's desire to get out on the field and prove its strength.
"The midweek was really good timing because we had that bad taste in our mouth from Army," Polley said. "We didn't play well, and sometimes it's just good to get out there since it's hard to sit around for a week, watch film and be told what you did wrong. I think it is more important that we got back on the field and got our rhythm back."
Despite all of that, BU will have its hands full when Loyola (6-6, 4-2 Patriot League) takes to the field on Saturday. The Greyhounds recently were on the wrong side of a narrow defeat themselves, as they fell 11-10 to No. 3 University of Maryland on Wednesday and defeated Navy 17-7 just prior to that on Saturday.
On top of its recent results, Loyola boasts three offensive stalwarts in sophomore Brian Sherlock, junior Zach Herreweyers and senior Nikko Pontrello. They all have 40 points or more on the season and greatly contribute to their team.
While the Greyhounds may be a .500 team, Polley said they are strong all across the board and will challenge the Terriers in numerous ways.
"Loyola is a great program and their coach does an unbelievable job," Polley said. "They were the No. 1 seed in the [NCAA] Tournament last year and got upset by a strong [University of] Albany team. They're coming off two really strong years and are strong at every facet. They're great offensively, great in transition and have a strong defense. We really expect it to be a huge challenge for us."
Contributing to the plot of Saturday's game is the looming possibility of the Patriot League Tournament. BU missed out on the tournament in 2014, but will be guaranteed a spot in the postseason competition if they get the best of Loyola.
While that will motivate the Terriers to continue their surging form, it will not be consciously on the mind of those in scarlet and white. All that will matter is taking care of the job at hand — the rest will take care of itself.
"We are trying to take it one game at a time," Polley said. "It's obviously hard not to think of the tournament since we've never been there and our preseason goal was to make the Patriot League Tournament. We don't talk directly about, but we know that if we play well and win another conference game we're going to be in a good place."
Considering the entire picture, Polley said the Terriers are anxious to prove their worth against a strong Loyola side.
"Both teams know each other a little bit from last year, so we're going to go out and do what we know how to do and they'll do the same," Polley said. "I think it's going to be a great game on Saturday."