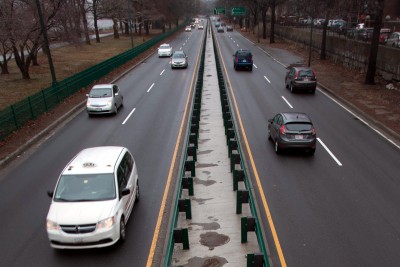 Cities with large population densities may have less carbon emissions per capita compared to suburban areas due to public transportation services and walking accessibility, Boston University researchers found in a Monday study.
Researchers in the BU Department of Earth and Environment analyzed the amount of greenhouse gases cars have emitted in U.S. cities over the past 30 years and found a 50 percent increase in vehicle emissions since 1980.
"Geographic differences in the density — emissions relationship suggest that 'smart growth' policies to increase urban residential densities will have significantly different effects on emissions depending on local conditions, and may be most effective at low densities," the report stated. "Our results highlight the importance of cities as sources of CO2 and the need for improved fine-scale inventories for monitoring and reporting of emissions."
The study found that the population density for U.S. cities has increased 30 percent between 1980 and 2004 while carbon emissions increased 19 percent during the same period of time. Vehicular population decreases when more people live closer together, the report stated.
Conor Gately, an author of the study and a fifth-year graduate student in the Graduate School of Arts and Sciences, analyzed a particular area of road over the course of 30 years to see how population density affects CO2 emissions.
"You get a lot of improvement in the per-capita emissions when you make things denser if they're already pretty dense," Gately said. "Making the central Boston metro area denser reduces the amount of emissions per person from vehicles, but for cities that are lower in density and medium density area, the decline in per capita emissions is much slower."
Carbon emissions will continue to rise as their populations grow because medium and low-density cities don't have as effective public transportation or walking accessibility, Gately said.
"It's hard to convert something like Phoenix or Salt Lake City into a Boston or a [Washington] D.C. just because the geography that it was supposed to be developed under led them down this initial path of sprawl, and it's hard to claw your way back from that," he said.
Gately said sprawl is bad for a region's carbon emissions because city governments are more likely to invest in privately owned vehicles than effective systems of public transportation.
"Economically, public transit is really a lot less viable in lower density cities because they're just not going to get the revenue stream," he said. "The ridership is going to be lower, but when you have enough people in one place, it makes sense to run buses or to run light rail."
Boston in particular has seen one of the largest declines in per capita CO2 emissions over the past 30 years and is "about as good as you can get" in terms of population density and public transportation, Gately said.
Gately said he hopes city planners and policy makers will help make U.S. cities more sustainable.
Elizabeth Hannigan, the secretary of the BU Environmental Student Organization, said that before learning of the study, she was unaware of how urban density effects carbon emissions. She praised the Massachusetts Bay Transportation Authority's reach despite issues with reliability.
"If there's more people using public transportation, there's more people traveling at the same time instead of a lot of people driving separate cars," said Hannigan, a freshman in the College of Arts and Sciences. "The MBTA does a good job having the T going to multiple parts of Boston."
Carolyn Tracey, a junior in the Sargent College of Health and Rehabilitation Sciences, said she has noticed Boston residents making more of an effort to walk and take public transportation.
"This is our world, and we need to treat it well and make it the best we can for everybody else who is going to be in this world and not destroy it before we get through," she said. "It's important to have the best infrastructure in the city that we can have that's not going to be destroying our world because the cities are where people are the most attracted to, so we want it to be a green place."
Monika Nayak and J.D. Capelouto contributed to the reporting of this article.