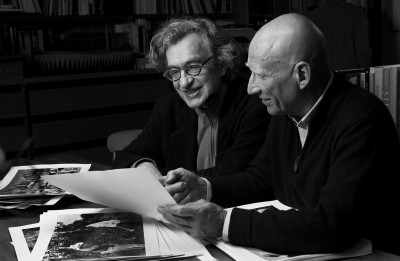 Wim Wenders' first words in "The Salt of the Earth" are instantly captivating: "A photographer is someone literally drawing with light." It's an apt opening phrase, as the film itself draws with light the life and work of Brazilian photographer Sebastião Salgado.
Directed by Wenders and Juliano Ribeiro Salgado (Sebastião's son), "The Salt of the Earth" explores Salgado's lifetime of photojournalism and traveling as well as his personal history. Salgado's extraordinary life prevents the film from being one-dimensional or plain and instead propels its viewers into an eye-opening expedition.
What makes Salgado worth documenting is his extraordinary talent in photography and composition, combined with the wide variety of subject matter he chooses to photograph. He captures the essence of life on Earth by photographing everything from remote South American tribes to the Rwandan genocide to Brazilian wildlife.
The film captures Salgado's depth of work by taking us through each of his major projects. Salgado's photographs make up most of the film's visuals, with his face occasionally phasing in as he comments on and explains each picture. His soft voice and the lack of moving visuals present the potential for a droning, disengaging biography, yet the film overcomes this challenge through Wenders' and the younger Salgado's careful structuring and moving stories.
Wenders narrates much of the film, aside from Salgado's photo commentary, but Juliano also takes over the narration for certain segments. While the sharp narrative switch can be disorienting at times, each person provides an important perspective. Wenders conveys the trajectory and significance of these photographic projects, the elder Salgado brings his personal experiences in each place he visited and each moment he captured and Juliano delivers an intimate exploration of his father as a human being as well as a photographer. Together, all three form a comprehensive understanding of both Salgado and his work. The fact that the film documents both of these connected yet distinct elements makes it doubly impressive.
"The Salt of the Earth" uncovers the elder Salgado's roots in human rights from a young age. Escaping a Brazilian dictatorship, he fled to France with his wife Lilia. He earned a degree in economics before ever even picking up a camera, but he soon realized that he could do more good with photography than he ever could with his degree.
Salgado became attached to his photography, leaving his wife and children behind in France more often than not as he traveled across the world. Juliano tells us about his father's absence without any bitterness in his voice — the absence only spawned a curiosity within him about Salgado. It seems this documentary is the product of a lifetime of intrigue, from son to father.
What Juliano discovers extends far beyond just his father. Tracing through the older Salgado's travels is melancholy and even heart-wrenching at points. He does his job best when his photographs are hard to look at, and they often are. Depictions of Rwandan children's naked corpses pierce the screen as Salgado recounts the tragedy behind each photo. The images provoke more emotion than any amount of words could ever do, proving the necessity of photojournalism as a bridge between the worlds of art and humanitarianism.
But as much tragedy as the film depicts, it ends with hope. Salgado finds recovery from constant feelings of bleakness through his connection to the natural world. His last major work, "Genesis," finds beauty and resolution on Earth after his previous works make that task feel impossible. It's an ultimate challenge that Salgado himself overcame.
"The Salt of the Earth" explores the peaks and slumps in mankind and nature through the tarnished yet resilient eyes of Sebastião Salgado, all while finding insights into the photographer's own personal journeys. Its emotional weight and in-depth, worldly investigation make this a documentary not to be ignored.