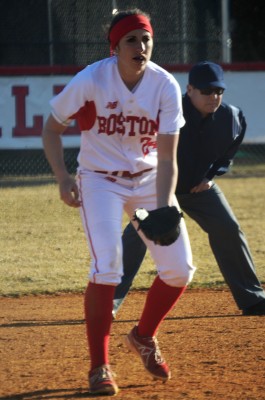 Even though winter seems to be in the rear-view mirror, the Boston University softball team will still not get to play its home opener this weekend.
A three-game series with the United States Military Academy was originally scheduled to take place at the BU Softball Field, but poor field conditions have forced the games to different venues. Game one is scheduled for noon on Saturday, with game two set to follow at locations that have not yet been determined, if the conditions at the BU Softball Field are deemed unplayable. The two teams will finish off the series on Sunday at 3:30 p.m. at Shea Softball Field at Boston College.
"We're excited to play … in the vicinity of home," said BU coach Kathryn Gleason. "It's not looking very good to play at our home field right now. Right now, we don't know where we're going to be playing."
The Terriers (8-20, 1-4 Patriot League) had their last game cut short due to weather as well. Up 3-2 with the bases loaded in the top of the third inning against rival Boston College (16-15) on Wednesday, a rain and hail mix halted play and eventually canceled the game.
"It is the spring, so you expect some kind of weather," Gleason said. "It just seems that winter is lingering on for us here in the northeast. Boston College's field was in great shape, the dirt, the grass. We had a great start, we were patient at the plate and we had some great at-bats. I thought [junior pitcher] Melanie Russell did a great job controlling the ball and holding onto the ball, but by the third inning, the conditions deteriorated and they were not safe for us to be out there."
In its last completed game, BU edged out the University of Massachusetts Lowell 7-6 on Tuesday. Russell struck out eight batters in a complete-game, 127-pitch effort. Senior outfielder Mandy Fernandez and sophomore infielder Brittany Younan each delivered key doubles in a six-run Terrier fourth inning that broke a 1-1 tie. The River Hawks (10-18) then put up a big inning of their own, highlighted by freshman Vanessa Cooper's grand slam, but fell short in their comeback.
"I thought [Russell] did a great job," Gleason said. "We're still working out a few things, but I thought she did a great job leading us. I told her at the beginning that we just needed to score one more run than the other team, and I didn't care what the score was. They did a great job of coming out and keeping the pressure on. Melanie shut them down when she needed to, so I think getting her more innings and getting her back into a rhythm will be a good thing for her."
Thanks to Russell's effort, BU will now have a full pitching staff available for this weekend's series. Army (15-19, 5-4 Patriot League) is also coming off a weather-shortened game, an 8-5 five-inning win over Saint Peter's University on Tuesday. The Black Knights scored seven runs in the fourth inning and held off a late St. Peter's (1-21) rally. Sophomore Alee Rashenskas' bases-clearing double highlighted the inning.
Junior Kasey McCravey has been a complete player for Army this season, recording team highs in batting average (.407), hits (46), runs (31), home runs (five), slugging percentage (.619) and stolen bases (20). Freshman Kristen McPeek is not far behind with a .352 batting average and 10 doubles on the year. Sophomore Caroline Smith has started 18 games for the Black Knights and recorded a 5.00 ERA. Fellow sophomore Kristen West has appeared in 20 games in the circle and has posted a 3.08 ERA.
"Any team in the Patriot League is a good matchup," Gleason said. "Everybody is tough, and everybody elevates their game during a conference series. [McCravey] definitely leads that team. Her presence on the infield, she can hit for power and she has speed. She's definitely a name that we know. Last year, I think they presented a lot of speed and they continue to do that, and [Smith] on the mound has done a great job for them. We're looking forward to playing, in the area, a conference game."