Tufts University agreed Tuesday to accept and provide need-based financial aid to undocumented and Deferred Action for Childhood Arrivals applicants, according to the university's website. The announcement followed the campaigning of Tufts student organization, Tufts United for Immigrant Justice (UIJ) and non-profit organization, the Student Immigrant Movement.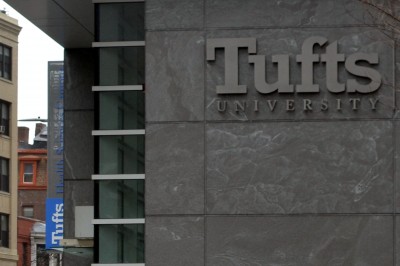 "Tufts' core values include a commitment to equal opportunity, inclusion, accessibility and diversity. Therefore, Tufts welcomes all undergraduate applicants regardless of citizenship status," Tufts' Undergraduate Admissions website states. "Undocumented and Deferred Action for Childhood Arrivals students who apply to Tufts are treated identically to any other U.S. citizen or permanent resident in their high school."
Undocumented or DACA applicants are also now instructed to follow the same application process as any other domestic applicant, the website states.
"The announcement that Tufts University made on Tuesday is the result of years of hard work on the part of undocumented immigrant youth across the state, through the Student Immigrant Movement, who have been coming out of the shadows to say that they're undocumented and unafraid to share their stories," said Student Immigrant Movement Campaign Coordinator Carlos Rojas-Álvarez.
Rojas-Álvarez said most undocumented students are put off from applying for higher education because of the challenges that must be overcome.
"We know that the barriers that undocumented students face in achieving higher education are both obstacles in the admissions field as well as obstacles in the financial aid realm," Rojas-Álvarez said. "The announcement is a very comprehensive change that we think is going to go far in making sure undocumented students who apply to Tufts are on an equal playing field with other applicants."
The announcement came as a result of SIM training, supporting and guiding UIJ, until both groups achieved an on-campus Senate resolution in support of undocumented students, Rojas-Álvarez said.
Unlike Tufts, Boston University currently does not provide financial aid for undocumented students, said BU spokesman Colin Riley.
"To be eligible to receive federal, state, or Boston University financial aid you must be a U.S. citizen or eligible non-citizen," BU's Financial Assistance website states. "You may be required to submit proof of your citizenship status before your financial aid application can be considered complete."
Rojas-Álvarez said a major university such as BU should embrace immigrants and give them opportunities to thrive in a burgeoning city.
"If we were to send a message to Boston University, I think that it [financial aid for undocumented students] makes a lot of sense for a university like Boston University, located in a city that was built by immigrants, that is a hub for immigration," Rojas-Álvarez said. "I actually remember applying to BU as a [high school] senior, and that was a mistake."
SIM is also campaigning at Emerson College, Brandeis University, Bridgewater State University, University of Massachusetts Boston and Bunker Hill Community College to consider providing undocumented and DACA students with financial aid.
Several students said Tufts' decision is progressive and other schools should follow their lead.
Jordan Fessehaie, a freshman in the School of Hospitality Administration, said an undocumented prospective student should have the choice to go to any college they are admitted to.
"That's great, because more people should be able to go to college because it's becoming something that everyone has to have," she said. "There should be restrictions, but if they fit the requirements, they should be allowed the choice."
Scarlett De Jean, a sophomore in the College of Communication, said Tufts is progressive and this move is indicative of the social progress being made by the entire nation.
"Tufts doing that is taking a step in the direction that our country in general is going," she said. "It's very forward of them, and looking towards the future, compared to the ways of excluding everyone in the past. BU probably just isn't ready to do it, and it will probably be at least several years before other colleges get on this bandwagon."
Zain Etigani, a sophomore in the Sargent College of Health and Rehabilitation Sciences, said that as an international student, she would have appreciated the option of applying for financial aid.
"I'm an international student as well, and coming to BU, I didn't know that I would not be able to apply for financial aid, so as an international student, I think that's great," she said. "If international students and undocumented students would need that financial aid to attend and possibly receive a better education, then I'm all for that."