Cason Hohmann's last game in a Boston University uniform was his biggest game in a BU uniform. The senior assistant captain of the Terriers entered the national championship game against Providence College on Saturday night fully aware that it would be his final game. And he came ready to play.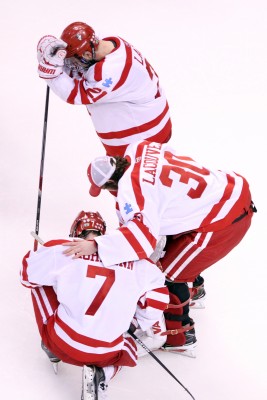 "I never imagined that my last game ever would be … the national championship game," Hohmann said. "It was my dream to play in this game, it was my dream to win it."
Hohmann's last goal in a BU uniform was, arguably, his biggest goal while wearing a BU uniform. He struck gold with his rebound goal that flew past the glove of Providence netminder Jon Gillies, giving the Terriers (28-8-5) a 3-2 lead midway through the second period.
The goal was his 11th of the year — for Hohmann, a new personal career high for goals in a season.
In fact, Hohmann's final eight games in a BU uniform were some of his best games of the season. In that span — the entire postseason — Hohmann totaled eight points, fifth-most among the team in playoff points.
But Hohmann's final goal would also be the final goal of the team's miraculous 2014-15 season. The Terriers lost to the Friars (26-13-2), 4-3.
The last scoring opportunity for Hohmann in a BU uniform came with about a minute remaining. He was alone in front of the net, and received a delivery from junior forward Ahti Oksanen on the doorstep.
Hohmann could have tapped the puck in. But his skate got caught, and he fell over. He attempted to regain his balance, but saw sophomore Nick Roberto streaking forward out of the corner of his left eye. Hohmann hesitated, and Roberto took the handle on the shot.
Gillies sprawled to stop the puck, and denied BU a chance to tie the game.
"I wish," Hohmann said in reflection, "I somehow didn't fall back on my skates."
In Hohmann's final time addressing the media at a BU press conference, he still wore his red and white uniform. Junior captain Matt Grzelcyk had changed into a black hoodie, but Hohmann didn't want to change.
With red eyes, Hohmann answered questions, but kept his answers succinct. He answered two questions.
In Hohmann's final time sitting in a locker room with "Cason Hohmann" inscribed next to the Terrier logo on a nameplate, he still refused to take off his jersey.
To Hohmann, the BU uniform represents the work ethic and drive it takes to be a successful team. It represents how the team turned around from a 10-win season in 2013-14 to earn 28 wins, including a Beanpot championship, regular season and conference tournament titles and a berth in the Frozen Four.
The red and white represents how the team stayed on campus all summer, how it got up at 6 a.m. to practice and train — simply, how hard the team worked to earn a spot on the national stage.
And Hohmann and the Terriers earned their spot, but fell just short.
"It means everything to me," Hohmann said. "This place, this whole school, means everything to me. I wish I had another year left. I really wish I did."
Fighting tears, Hohmann mulled the idea of when he'd take the jersey off.
"I don't know," Hohmann said. "I may wear it out of here. Hopefully they'll let me do that.
"I really don't want to take it off."
But Hohmann removed his red and white sweater for one final time before departing the TD Garden locker room. He was the last player to remove his jersey.