Massachusetts Gov. Charlie Baker approved an additional $200 million in funding for infrastructure contributing to a total of $330 million toward municipal roads, bridges, paving projects and pothole repairs, according to a Thursday press release.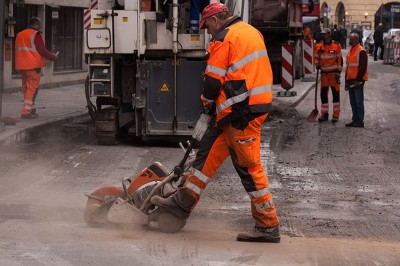 Money will be distributed to cities around the Commonwealth that will decide which areas the funds will go toward. Most cities will be using the allocated money for road repairs, said Tim Buckley, a spokesman for Baker.
"The Baker administration worked really hard to find additional resources within the state budget and direct those back to cities and towns as part of their commitment to supporting local officials and their efforts to provide top level services to the people in Massachusetts," Buckley said.
Massachusetts Lt. Gov Karyn Polito said in the release that the additional funds are especially necessary after an especially harsh winter.
"As we continue to build strong partnerships with our cities and towns in every corner of the Commonwealth, we are glad to release additional funds to municipalities to assist with local construction projects and boost recovery efforts after an unprecedented winter," Polito said in the release. "I look forward to proceeding with my statewide tour to visit with local officials to talk about the important issues facing our cities and towns as we work collaboratively toward a stronger state for all families and communities."
The Board of Commissioners for the Massachusetts Department of Transportation most recently updated additional guidelines for projects including road building equipment, highway construction and others toward capital facilities in 1994, according to the MassDOT website.
"Our Commonwealth can only be as strong as every city and town, and Lt. Governor Polito and I are pleased to fulfill our commitment to support municipalities and grant access to critical funding for transportation improvements," Baker said in the release. "After a rigorous winter, the timely delivery of these funds is a much-needed resource and welcome opportunity to spur economic growth in every zip code."
The cost of damage and repairs will require much more than $200 million, said Randall Ellis, an economics professor in Boston University's College of Arts and Sciences.
"The real budget issue I see is why the city of Boston only budgeted some pathetically low amount for snow removal, I believe $6 million, while actual costs were much higher than this," Ellis wrote in an email.
Several residents said they are interested in which communities will receive funding, where the money is coming from and what types of repairs will be made.
Erin Shibley, 23, of Brighton, said she hopes the funding will go to communities in need so repairs can be made where they are the most necessary.
"I don't know much about each individual community, so I would hope that it would be working in communities that actually need it," she said. "We don't ever want things to break down completely. That's why we are perpetually paying taxes, so that we can keep things to date. It's a city, so if you don't repair it right away, it could get so much worse, so quickly."
Shibley identified Riverside and South Boston as neighborhoods where residents usually want continual roadway repair.
"I'm one of those people who is a supporter of the programs that they tried in New York where if you have a really nice looking city, then people actually respect it," she said.
Natasha Whitby, 23, of Brighton, said public transportation should be the priority for the benefits of the funding.
"Areas that are closer to the city where people rely on public transportation should get attention," she said. "I just got a job where I won't be driving in, so it's important for areas where most people are commuting via public transportation. People that are living in areas that are receiving more money than others would obviously receive it well whereas if people in certain areas were left out, they would receive it poorly. People are going to be sort of hypocritical or biased."
Josh Deering, 30, of East Boston, said he supports the allocation of funding, especially for local neighborhoods.
"We should fix the problems that are already there with streets, the sidewalks and the other infrastructure around," he said. "Areas in East Boston in general could use a little more care from the city. It's been a little bit ignored over the years for the better part of the history of the city and the state. I could definitely see the need for East Boston to see continued improvements."
Julia Metjian contributed to the reporting of this article.