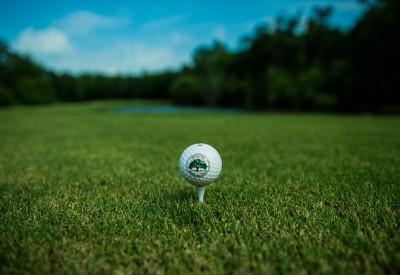 Playing this past weekend at the Brown Bear Invitational at Brown University, sophomore Adela Cejnarova captured the individual title and guided the Terriers to a third-place team finish.
The tournament was held at Metacomet Country Club in East Providence, Rhode Island.
Cejnarova was tied for the lead after round one after shooting a 1-over-par 72. Junior Emily Tillo and senior Kristyna Pavlickova also had strong first rounds, shooting 4-over-par 75 and 6-over-par 77, respectively. Freshman Phyllis Tang (78) and junior Sarah Easton (88) rounded out Sunday's scoring for the Terriers.
BU sat in a tie for third after the first round of play with a team total of 18-over-par 302, with the top-four individual scores counting toward the team total. The Terriers were deadlocked with the University of Pennsylvania, but just five shots back of second-place Princeton University and seven shots behind leading Yale University.
On Monday, the Terriers continued their strong play and broke out of that tie to finish in third place alone. Cejnarova fired another round of 72 and defeated Yale's Elisabeth Bernabe in a one-hole playoff. Cejnarova chipped in on the extra hole to claim her first collegiate victory. Tillo shot a 76 and finished tied for 13th while Pavlickova and Tang both recorded 76's in the final round to finish in the top 25. Easton improved by three shots from the first day, shooting a final-round 85. BU finished in third place as a team with a total of 602, 12 shots clear of fourth-place UPenn and just seven strokes behind second-place Princeton. Yale won the event with a team total of 589.
"It was a good weekend for the team, and it was a good weekend for Adela," said BU coach Bruce Chalas. "She made a 45-foot, downhill, fast chip shot for par and won the playoff. It was really exciting and her first win in college. It gives her a big lift, and it gives the team a big lift as well."
Cejnarova earned Patriot League Golfer of the Month honors in October 2014 after she set a program-record with a 3-under-par 69 in the opening round of the Jacksonville Courtyard Classic. In her last tournament, the William and Mary Middleburg Bank Intercollegiate at the end of March, Cejnarova recorded three straight rounds of 6-over-par 78 and finished tied for 18th. She also finished third individually in the Dartmouth Invitational in September 2014, helping the Terriers win as a team.
Tillo also received a conference honor recently, being named Patriot League Golfer of the Month for March. The junior left-hander recorded two top-10 finishes in three starts in March, a tie for sixth in the University of North Florida Intercollegiate and tie for 10th at the Middleburg Bank Intercollegiate. Tillo also recorded a hole-in-one in the College of Charleston Kiawah Island Intercollegiate and shot five-straight rounds of 77 or better over the course of the month.
"Emily has played well for us all year," Chalas said. "She's very consistent. She won earlier in the year up in Dartmouth, and she's really a big piece of our team for sure."
The Terriers will now prepare for the Patriot League Championship this weekend at the United States Naval Academy Golf Club in Annapolis, Maryland. For the first time, a tournament win will earn an automatic berth into the NCAA Regionals in early May. Chalas said the same five players, Cejnarova, Tillo, Pavlickova, Tang and Easton, will be his roster for the tournament.
"We've been really gaining some momentum the last week for sure," Chalas said. "We've had some good practices. We went away two weekends ago down to Pinehurst and got some good practice in there. Since that trip, we've really gained some extra momentum. We had a chance to play a lot of golf and get a lot of short game practice in, and it carried into this weekend. The girls are playing well, and they're rounding into form. From my perspective, I'm really excited."