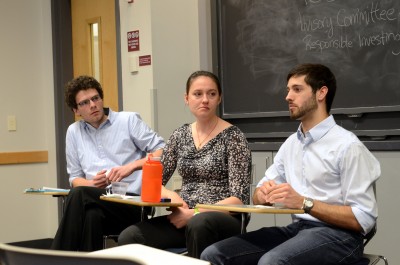 Three members of the Advisory Committee on Socially Responsible Investing of the Boston University Board of Trustees hosted a town-hall-style open forum Wednesday, inviting BU students and community members to participate in the conversation about whether BU should divest from fossil fuels.
The ACSRI looks to gather feedback from organizations like Divest BU and the student body in order to present cases to the Board of Trustees on issues like fossil fuel divestment, according to the ACSRI's website.
Claire Richer and Garrett Moore, the ACSRI undergraduate representatives, and Ben Thompson, a graduate representative, were present during the open forum, which about five students attended.
Moore, a senior in the College of Engineering, said that as an influential institution BU has a significant social responsibility in terms of investment practices.
"Because the economic impact of BU is very small in terms of its investments, the political impact is larger and the social impact is larger," he said. "We believe it is really important to have these discussions, not only internally but also with the community."
Thompson, a second year student in the Graduate School of Arts and Sciences, said that BU and other colleges in Boston take each other's actions into account regarding fossil fuel divestment.
"If Harvard [University] and [Massachusetts Institute of Technology] divested [fossil fuel companies] that would push BU really hard," said Thompson. "If BU decides to make a decision, that would be very telling to some of the other schools, from Northeastern [University] to Tufts [University] to [Boston College] or elsewhere. The administrations definitely look to surrounding schools."
BU has released statements asserting that climate change is a man-made issue, so there is little disagreement that there is a problem, Thompson said. He added that the real question lies in whether divestment from fossil fuel companies is actually effective in making a change.
Rachel Eckles, a sophomore in the College of Arts and Sciences and the vice president of Students for a Just and Stable Future, identified divestment as a matter of putting money where beliefs lie.
"That's why it bothers me that people always wonder whether or not divestment is effective when making a decision, because whether or not it is effective, if your school thinks that they should divest, they should take a moral stance, and they should divest just to make it clear that they follow their values as an institution," Eckles said after the event.
Eckles said that 75 percent of students agreed that BU should divest from fossil fuels, given the results of the divestment referendum put on the ballot during this year's BU's Student Government elections. As a member of the Divest BU campaign, Eckles, together with ACSRI, said she will present the results to the Board of Trustees.
"We'll explain the results and any reason for error in the results," said Eckles. "We're thinking about [mentioning] referenda at other college campuses. Northeastern, Harvard, Tufts have all done a referendum as well. It would be really great to talk about not only do students at BU think we should [divest], but students everywhere think we should."
Richer highlighted two upcoming speakers scheduled to visit campus. Majora Carter, an urban revitalization strategist, will speak about climate change and sustainability on April 23. Professor Anthony Janetos, director of the Frederick S. Pardee Center for the Study of the Longer-Range Future, will speak on April 28. Both speakers will advocate for divestment and connect the action to a larger global influence, Richer said.
Several student attendees from the Divest BU campaign said that there should be more attention paid to the issue of divestment.
Luz Brielle Dojer, a junior in CAS, said that students do not fully understand what divestment is.
"Most people definitely know that fossil fuels are contributing majorly to climate change and companies, despite the fact that we know this, [companies] are not changing their practices," she said. "I feel like most people are supportive [of divestment] and that was reflected in the referendum."
Caroline Birsner, a senior in CAS, said she wants to better understand the ACSRI's thoughts and courses of action.
"The fossil fuel industry is the number one contributor to man-made climate change which threatens all of our futures," she said. "Who knows if we'll have a livable planet in 50 to 100 years? That involves all of humanity, but students too. We are spending all of this money on education and if BU is going to be under water in 50 years, what's the point?"