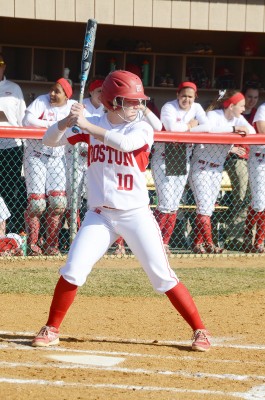 After defeating Harvard University 6-2 in a non-conference game Tuesday, the Boston University softball team will resume its Patriot League schedule with trips to Lehigh University and Lafayette College this weekend.
The Terriers (9-23, 1-7 Patriot League) will make their second appearance of the season in Bethlehem, Pennsylvania, to take on Lehigh (27-6, 10-1 Patriot League) Friday afternoon. BU will then head to Easton, Pennsylvania, for three games in two days with Lafayette (3-28, 1-11 Patriot League).
BU dropped two decisions to Lehigh in an April 1 doubleheader earlier this season. Lehigh had entered the game coming off a three-game sweep of Lafayette while the Terriers had not played in two weeks due to the winter weather. The Mountain Hawks won both games by the run-rule, 9-1 in six innings and 11-1 in five innings.
"That was our first game in 17 days and our first time on the dirt," BU coach Kathryn Gleason said. "We've played a couple of games since then and we've practiced on our own field. We're really an offensive lineup right now."
"Defensively, I think we're starting to get a set lineup as well. So we're feeling comfortable in those two areas and I don't think we were the last time we faced Lehigh."
Junior Alexis Watanabe leads Lehigh at the plate with a .452 batting average. Freshman Nicole Yozzo has been successful on 22 of her 24 stolen base attempts while also recording a .420 average and a team-leading 29 runs scored. Senior Emily Bausher and sophomore Christine Campbell have a combined 1.75 ERA and a 25-6 record in the circle.
This weekend will mark the first and only series of the season between BU and Lafayette. The two teams will play two games Saturday before closing the series at noon on Sunday.
The Leopards have lost their last six games, including three-game sweeps by both Colgate University and Bucknell University.
Freshman Rebecca Dvorak leads the team in hitting, though her average currently stands at just .262. Sophomore Lindsey Cherry, freshman Stephanie Thomas, sophomore Kristy Marinelli and junior Bryn Gornick have split time on the mound this season for the Leopards and have compiled a combined 7.29 ERA. Despite their record, Gleason said her team is not taking Lafayette lightly.
"It's important that we approach every game the same way," Gleason said. "We play the game, not the opponent. Any Patriot League game is going to be a battle. Everybody is playing for a top spot or to get into the tournament."
In the Terriers' win against Harvard Tuesday, sophomore infielder/outfielder Moriah Connolly continued to impress after being moved up to the leadoff spot. She recorded three hits, two runs, an RBI and two stolen bases.
Freshman outfielder Emma Wong, senior outfielder Mandy Fernandez and freshman infielder Kaitlin Sahlinger each had two hits in the contest while sophomore infielder Brittany Younan drove in two runs. Sophomore pitcher Makinna Akers picked up the win, pitching the final 6.2 innings and allowing just three hits.
"It's a big rivalry against Harvard and [Boston College]," Gleason said. "We started a little slow, but I was proud of how resilient we were. Going down 2-0, allowing a couple of walks and then getting out of that inning only allowing two runs, and then fighting back. Everybody contributed, one through nine, so it was definitely a team win."
BU currently sits in sixth place out of seven teams in the Patriot League standings, just a half-game ahead of last-place Lafayette. The top four teams qualify for the Patriot League Championships in early May, and BU is currently just 1.5 games behind fourth-place Holy Cross. With only 10 Patriot League games remaining on the schedule, Gleason knows that this weekend will be an important step towards getting inside the top four in the conference.
"Every game matters," Gleason said. "It's already April 15 and we're just starting to get on our own field. It feels like March but we're really in the thick of things right now. We have a long stretch of games and I think we're ready to get everybody healthy and get everybody on track. Every game is important, and you never know if it's going to come down to the last day."