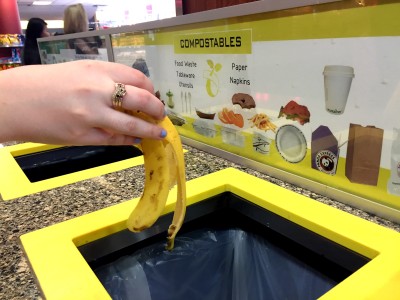 Disposal and composting efforts at Massachusetts businesses, facilities and institutions have improved since Massachusetts enacted the country's first statewide food waste ban on Oct. 1, 2014, said a state environmental official.
The ban regulates waste disposal and encourages composting for 1,700 large businesses and facilities that produce over one ton of waste, said John Fischer, branch chief of commercial waste reduction and waste planning for the Massachusetts Department of Environmental Protection.
"The way [it] has worked is we saw lot of progress leading up to the effective date of demand and a lot of businesses coming into compliance even before the effective date of the ban," he said. "We have seen a lot of progress with building the infrastructure for compost sites and farms and anaerobic digestion facilities."
Fischer said since the ban went into effect, more businesses have complied with the waste reduction efforts. MassDEP has been overseeing the ban, which was created to help the Commonwealth reduce waste by 30 percent by 2020 and 80 percent by 2050, The Daily Free Press reported on Oct. 23, 2014.
The department funds a program called RecyclingWorks Massachusetts, which helps businesses install programs to help them reach sustainability goals and comply with the ban, Fischer said. There are about 30 programs following the RecyclingWorks' approach to date.
"[We're] seeing a lot of good success stories," he said. "RecyclingWorks has a hotline, and the way that it works is these businesses call that hotline for assistance and we go out visits the facility and helps them set up a food waste collection program."
Food waste is one of the areas covered in the Massachusetts 2010-2020 Solid Waste Master Plan, which outlines the Commonwealth's efforts to increase waste diversion efforts, save municipality money and work toward a "zero waste" future.
Sabrina Pashtan, the sustainability coordinator for Boston University Dining Services, said improved waste efforts have helped the university compost its food waste.
"BU produced 932 tons of organic material in 2014," she wrote in an email. "Our waste diversion system is doing very well and thanks to our reliable partner Save That Stuff, we are able to compost almost all of our organic material."
Excluding construction projects, BU's total waste in 2014 was 9,943 tons, which was a 9 percent decrease from 10,961 tons in 2006, according to Sustainability@BU's website.
Approximately 33 percent of the total waste was recycled, composted or donated while the other 67 percent was incinerated at a waste-to-energy facility.
Several residents and students said they appreciate efforts to reduce food waste, but they have yet to see direct or immediate impacts of those actions.
Caroline Clar, 27, of Back Bay, said the waste ban may have a greater impact in the near future, but that she has yet to see these changes in her daily life.
"It [the waste ban] is a good idea, but I haven't seen any improvements yet," she said. "I haven't noticed it."
Kathy Harder, 29, of Allston, who recently moved to Boston in December, said she supports the Commonwealth's efforts to address waste.
"It's a good idea," she said. "I work for a library and we have a great recycling program. More recycling and composting may be good improvements."
Jane Yang, a freshman in the College of Arts and Sciences, said the waste ban could be more effective if expanded to universities and residents.
"They [BU] could extend the composting in the GSU [George Sherman Union] to all dining halls," she said. "I haven't noticed a change in the waste management and regulation at BU."
Arnesh Mathew, a sophomore in the College of Engineering, said integrating more compost receptacles across campus could have a greater impact on campus and help contribute to Massachusetts's food waste efforts.
"When I go there [the GSU] I sense that it's much better there than here in West [Campus]. The facilities are better at the GSU," he said. "I haven't noticed a change in BU's waste habits, but people should put them [compost bins] everywhere, in the West and Warren dining halls especially."