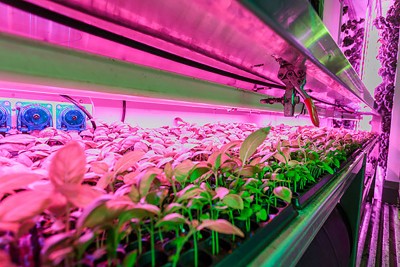 Food startup ventures are beginning to make waves in a venture capitalist market that used to be dominated by social media, e-commerce sites and online services. With new technologies making the farming industry more cost efficient and sustainable, these ventures are taking innovation to new heights.
In this industrialized world, it's no wonder that many agricultural startups have set their sights on urban farming. Boston's Freight Farms, for example, is converting recycled shipping containers into indoor farms. Founded by Brad McNamara and Jon Friedman, the company furnishes the interiors of shipping containers with automated growing systems capable of producing commercial-scale crop harvests.
"Traditionally, in urban areas like Boston, it's incredibly difficult to find fresh, healthy produce," said Caroline Katsiroubas, marketing manager for Freight Farms. "So this is a way to provide immediate, fresh, organic produce that is cost-competitive and locally sourced."
The indoor farms use a hydroponic growing system, which cultivates crops in a nutrient-rich water solution instead of soil. Plants that have matured past the germination stage are grown in vertical towers and treated with high-efficiency LED lights, which not only imitate the sun's ultraviolet wavelengths, but also regularly adjust their brightness to simulate day and night cycles. The containers used for the farms are also stackable, allowing a single patch of land to house several urban farms at once.
While Freight Farms' vertical growing configuration is mostly conducive to leafy greens, the company is looking into growing other types of produce in future iterations of their farms. It has already experimented with vine crops like jalapeños, cucumbers and tomatoes. In the meantime, much of the experimentation with different crops falls into the hands of users themselves.
"If someone tells us that they want to try growing carrots, we'll tell them these units aren't made for carrots," Katsiroubas said. "But we can't stop them from trying, so a couple weeks later, they're harvesting carrots."
Freight Farms' indoor farms have proven to be a lot more sustainable than conventional farming methods. By taking up unused urban spaces, the company's repurposed containers provide commercial-scale produce locally, cutting transportation costs that could affect the price of food. Cutting out the middleman also leads to the elimination of carbon emissions. On top of that, Freight Farms' hydroponic growing system requires 90 percent less water than conventional agriculture, which could help address the global water security crisis and the disastrous drought in California.
Freight Farms' biggest investor is Spark Capital, which boasts investments in social media powerhouses like Twitter, Tumblr and Upworthy. But venture capitalist firms aren't the only ones showing interest in agricultural ventures. Boston University is considering Freight Farms as a viable option for producing food on a crowded urban campus.
"BU Dining Services is currently looking into Freight Farms. We actually toured one of their containers last week," said Sabrina Pashtan, sustainability coordinator for BU Dining Services. "We rely on local farms to supply us with fresh produce both seasonally and, when possible, year-round."
Twenty one percent of food provided to BU Dining Services is sourced locally or sustainably, Pashtan said.
"Our distributors go to farms around Massachusetts, Maine, New Hampshire, Rhode Island and Vermont, and then deliver it to our kitchens on a daily basis," she said.
Outside the urban environment, though, Harvest Automation is a different venture looking to revolutionize the way people grow and harvest plants. The Billerica company manufactures robots designed to handle much of the physical labor involved in cultivating horticultural crops.
"The thing about conventional farming is that the plants have to be moved around a lot to produce them efficiently," said Charles Grinnell, co-founder and chief operating officer of Harvest Automation. "No one wants to do this kind of labor anymore, so our products are really solving a big labor problem in the industry."
Harvest Automation is expediting horticultural farming with autonomous robots capable of handling much of the work that normally falls to human laborers. The robots are able to detect which plants have grown too close together and redistribute them to a uniform distance from each other. They can also efficiently consolidate remaining plants into a smaller area after many of them have been sold, allowing farms to use less water and fewer pesticides to maintain their crops.
Although Harvest Automation's technology is currently specialized for horticultural farming, the company is looking into adapting its technology for the food production sector, having partnered itself with major food producers Grimmway Farms and Reiter Affiliated Companies. In addition to addressing labor shortages, Grinnell said the company hopes to soon use their robots as data harvesters. Such machines would gather health and fertility data on a plant-by-plant basis, allowing farmers to make more informed decisions about how much water and pesticides are necessary to maintain their crops.
These technological advancements, Pashtan said, can translate back to the urban agriculture movement in Boston.
"Getting involved in the urban agriculture movement is a wonderful way to learn about our food," Pashtan said. "To get your hands dirty and plant some seeds, learn what it takes to grow food and have the joy of harvesting it is to appreciate food in a very unique and special way."