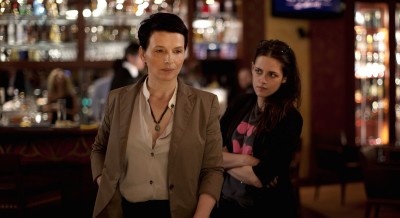 What does it mean to grow older? For women in Hollywood, it has often meant to inject, to tuck, to smooth away. This has long been the stuff of think pieces across the web, but it had yet to be explored meaningfully in the Hollywood medium itself until now.
"Clouds of Sils Maria" delves into this issue with reckless abandon, using it to explore larger ideas about the passage of time. Although "Clouds" has echoes of the meta-commentary of last year's Oscar-winning "Birdman," it's a decidedly softer, less angular and wholly original film. With a coterie of warm and real female characters, it unfolds a thoughtful story of time-driven evolutions of identity and self-perception.
The film opens with an awards ceremony turned memorial when renowned actress Maria Enders (Juliette Binoche) and her assistant Valentine (Kristen Stewart) learn that playwright and filmmaker Wilhelm Melchior has died. Maria owes her career to Melchior, who cast her as Sigrid, a young temptress who seduces and then leaves an older woman, in the stage and screen version of his "Maloja Snake."
Following Melchior's death, filmmaker Klaus Diesterweg (Lars Eidinger) approaches Maria with an offer to revive "Maloja Snake," only this time Maria will be playing Helena, the older woman who is driven to suicide after Sigrid leaves her. The role of Sigrid is given to Jo-Ann Ellis (Chloë Grace Moretz), a troubled young starlet in the vein of Lindsay Lohan, with the salacious leaked photos and paparazzi videos to boot. As Maria and Val hike, swim and run lines in the breathtaking beauty of the Swiss Alps, the boundaries between the characters in the film and in the play-within-the-film grow more and more difficult to discern.
Writer and director Olivier Assayas used to be a film critic, and this is undoubtedly a film critic's movie. "Clouds" is unapologetically talky, packed with ruminations both explicit and implicit on the nature of the film industry and time. Nearly all of the two-hour runtime is spent with Val and Maria in Wilhelm's cottage in the alternately lush or snow-capped mountains of Sils Maria, Switzerland as they discuss the nature of the relationship between Helena and Sigrid, the harsh realities that come with age and the inherent truth in big budget sci-fi films.
No part of the film is free of these kinds of reflections. "What is good? What is evil? Who are we to decide?" asks a pink-wigged Jo-Ann in a probing, albeit unimaginative, inquiry to her blue-haired cohort in an "X-Men"/superhero hybrid film-within-the-film.
But the musings of "Clouds" itself are never as laughably trite. The questions in Assayas's script are long overdue. Maria's struggle with her transition from vibrant young heartbreaker Sigrid to the despairing middle-aged Helena spurs important realizations about what it means to age as a woman whose livelihood depends on her image, projected on a 50-foot screen to thousands of strangers. Assayas also explores the other baggage that comes with old age, such as reigniting of old flames, regrets about paths not taken and feeling as though it has all happened too fast.
The weightier scenes often feel like overhearing a particularly scintillating dinner conversation between a couple of friends, especially in those featuring Stewart and Binoche. These women won't allow themselves to be dwarfed by big ideas about time and identity. Instead, the script relies heavily on them to carry these concepts through the film.
That's because Assayas imbibes his beloved female characters with such a raw, flawed humanity that they are, even at their worst, impossible not to empathize, or at least sympathize, with. Jo-Ann can be a flippant brat who's having an affair with a not-quite-divorced man. Val is distant and easily frustrated. Maria is a petulant teenager in disguise, throwing tantrums about having to play the older woman. "I don't care, I know I'm right," she tells Val at one point, in a line straight from the Moody Teenager's Handbook.
The acting, by the actors themselves or the characters within the film, is undoubtedly a crowning achievement. Assayas pulls magnificent performance from the entire cast, even the relatively brief appearance of Johnny Flynn as the droll Christopher Giles, Jo-Ann's ill-fated fling.
Moretz is deliciously awful as young-starlet-turned-disaster Jo-Ann, first introduced to the viewer in a TMZ-esque clip where she drunkenly attacks a reporter's car with her sequined purse. As Jo-Ann segues seamlessly from innocent star-worship to shameless condescension of Binoche's Maria, the viewer is never quite sure how to feel about her.
Stewart is similarly great in her element as the spiky, aloof Val, a role that seems derived from her true-life persona. A dubious admirer of Maria, Val is repeatedly the one to call her out on so much of her nonsense. Her relationship with Maria is easily the film's most fascinating, somewhat of a mirror between that of Sigrid and Helena in "Maloja Snake."
But Binoche earns her top billing as the star in every sense of the word. Collapsing all the emotion that comes with self-realization in older age, she flits from the desperate dejection of Helena as a woman fighting for the affections of a cold and indifferent younger woman to the childish rage of Maria at having to empathize with this pathetic, broken character. It's almost painful to watch but leads to a realization that feels both resigned and triumphant but truly earned, a testament to Binoche's skill.
It would be easy to dismiss "Clouds" as a meditation on acting, written in all caps, underlined and bolded. But that would be unfair, both to Assayas and to the magnificent turns by the three lead women. "Clouds" is a vital character study of what happens to a person, famous or unknown, male or female, real or imagined, with the passage of time.