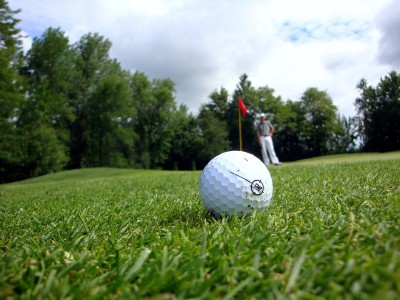 At the start of the 2014-15 season, the Boston University women's golf team set a lofty goal: to win the Patriot League tournament and earn its first-ever NCAA Regionals berth. Eight months later, the Terriers have made that dream a reality.
Sophomore Adela Cejnarova shot a tournament-record 222 to win the individual title while BU recorded a team-total of 929 as the preseason-favorite Terriers ran away with the Patriot League Championship.
"[Cejnarova's] upside is huge," said BU coach Bruce Chalas. "She's a well-traveled player who loves to compete and loves to get into the heat of the battle."
For the second straight tournament, Cejnarova jumped out to an early lead and maintained her position to earn a wire-to-wire win. An even-par 72 in the first round gave her a five-shot lead over junior teammate Emily Tillo and two others.
Cejnarova followed that up with a 2-over par 74 in the afternoon and maintained her five shot after two rounds. Freshman Phyllis Tang opened with a 79 but fought back with a 72 in the second round to jump into the tie for second with Tillo.
BU had the top three players on the individual leaderboard after day one, translating to an 18-shot lead over Lehigh University on the team side.
Cejnarova continued her strong play with a 4-over-par 76 in the final round, finishing 6-over par for the tournament and coasting to a six-shot win. Tillo added a five-over 77 to finish solo-second at 12-over par while Tang took home fifth place with a final round score of 84.
Lehigh won the final round by eight shots over the Terriers, but an 18-shot lead after the first day was plenty to secure the title for BU.
Senior Kristyna Pavlickova shot rounds of 78, 89 and 80 and finished tied for 15th. Her career-best 37 on the back nine in the final round sealed the win for the Terriers. Junior Sarah Easton also recorded a top-25 finish with rounds of 83, 85 and 88.
"Kristyna has been here four years, and her leadership came in handy," Chalas said. "She shot a tremendous back nine yesterday. She did it when we needed it. Lehigh was starting to close the gap a little bit, and we needed something and Kristyna rose to the occasion. She always has, all four years."
The Terriers took home several awards in addition to the tournament win. Cejnarova was named the conference's Most Outstanding Player while Tang was named Rookie of the Year. Cejnarova, Tillo and Tang were selected to the All-Patriot League First-Team as Cejnarova and Tang both set Patriot League records with their even-par rounds. Cejnarova, who made a tournament-best 39 pars, and Tillo, who made a tournament-best eight birdies, were two of only three players to break 80 in all three rounds.
"Emily has been playing real consistent all year," Chalas said. "She's really been giving us consistency and giving us the stability we need. Adela has caught fire for us this spring. Phyllis has been a breath of fresh air for the team this year. She's been a big addition with great work habits, and she loves to compete."
Cejnarova's victory came just seven days after her playoff win at the Brown Bear Invitational, and she has now held at least a share of the individual lead after each of her last five rounds.
"[Cejnarova and Tillo] have both been playing one and two, and it's been a good, healthy competition for the both of them," Chalas said. "I think it's improved their golf games. Just having that friendly rivalry on the team really helped their scores."
BU will now compete in its first-ever NCAA Regionals, set to begin on May 7. Chalas said he will stick with the same lineup of Cejnarova, Tillo, Tang, Pavlickova and Easton for the tournament. The team will find out their placement for regionals on Monday in a selection show on the Golf Channel.
"There was a lot of hooting and hollering yesterday," Chalas said. "Everyone knows that we were playing for a spot in the NCAA's, which is difficult to achieve. They were so excited to be able to make history."