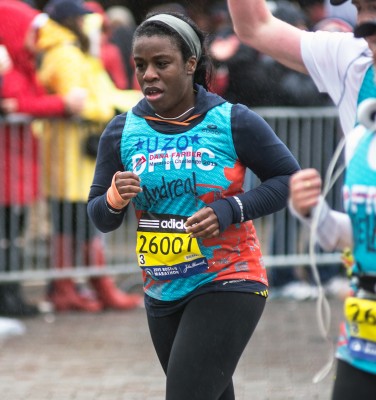 If anyone were to ask Boston-born stage and screen actress Uzo Aduba how she feels about running 26.2 miles from Hopkinton to Copley Square for the Boston Marathon, she would say, "quote, wicked excited." And she doesn't even say wicked anymore.
"I love the Boston Marathon," she said in a phone interview with The Daily Free Press.
"It's so a part of our culture as Bostonians. You want to go out and watch it. You want to go out and do it."
The Medford-raised Boston University graduate is running the marathon as part of the Dana-Farber Marathon Challenge team to raise money for cancer research at the Dana-Farber Cancer Institute in Boston. Her choice to run for Dana-Farber came from a very personal place, Aduba said, as she has lost three loved ones to cancer and witnessed the ongoing fight of another.
"I'm trying to just let that weight lift and really just get myself focused on why we do this," she said, "why we put ourselves through 26.2 miles of amazing effort, to make a statement and really say we can survive anything. One step, one mile at a time."
Although Aduba is best known for her portrayal of Suzanne "Crazy Eyes" Warren on Netflix's "Orange is the New Black," she's no stranger to athletic pursuits — or even marathons. She spent time on the track team while attending BU for classical voice in the College of Fine Arts, and she participated in the 2013 New York City Marathon.
"In college at BU, I remember thinking, 'Oh, I want to run a marathon some day.' But it was so lofty and far removed, frankly, from what I was currently doing as a runner, which was the shortest distance one can run," she said, referring to the 100 meters. "So I think I always had this dream of one day doing it. I don't think I ever knew that dream was going to come true."
She used to watch the marathon as a student, she said, where she was close to the action in an apartment on Buswell Street. She recalled people "grilling over there and hanging out and catching up" in the festive atmosphere of that stretch of the race.
"I used to go stand out there, and that was amazing," she said. "It's just like a party and a celebration."
She said she's looking forward to being on the other side of the guardrail in areas of the BU campus along Beacon Street and into Kenmore Square.
"I know that bit of it as a student," she said. "Those are my peeps. I'm excited for that bit."
But the training and the preparation have not been without challenges. Boston is one of the most difficult courses in the world, Aduba said, one with which she's very familiar.
"I'm just trying to take away some of the build up for it because being from Boston, I'm so familiar with that course and that race and what it is and what it means," she said, adding that Heartbreak Hill, an incline in the final few miles of the race that has become the bane of many an exhausted marathoner, is something she's definitely not looking forward to. "I know the animal I face."
Combine that with the schedule of a working actress — long days filled with film shoots and travel — and the preparation and, ultimately, the success nearly seem impossible.
"I welcome it, to be honest with you," Aduba said. "I think that's just the beauty of the marathon. You really push to know what you can take, what you can do. And I've been grateful, thankful [that] here we are in the final stretch of it, that I made it through to the other side."
Even in moments of frustration or plain exhaustion, Aduba said she only has to think of all the people for whom she's running.
"It's really easy to feel motivated when I start thinking about the fight won and the fight lost," she said. "And it really is the people still fighting every day that it's like, they're fighting every single minute and second of their lives and I'm being tasked to spend 26 miles of my life working. And that feels like such a small list, when I compare that. That makes it easy to keep going. Not easy to do, but easy to keep going."
But more than by the triumph of running a marathon, Aduba is driven by the triumph of running the Boston Marathon.
"How I even ever felt inspired by marathons was because of Boston … I think it will feel more like a homecoming. New York is my home now, but Boston is where I'm from. And so there's a kind of…" she trails off, pauses, before continuing, "There's nothing like going home."