The penalty phase of the trial of Dzhokhar Tsarnaev, the admitted Boston Marathon bomber who, along with his older brother Tamerlan, placed two bombs at the finish line of the 2013 Boston Marathon that killed three and injured more than 260 began Tuesday at the John Joseph Moakley United States Courthouse.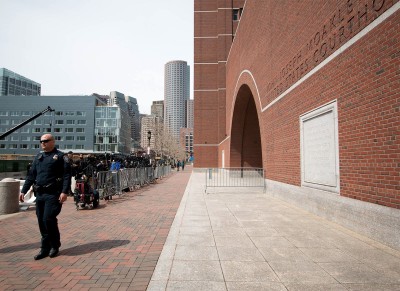 Tsarnaev, 21, was found guilty of all 30 charges against him on April 7. Seventeen of those charges carry the death penalty.
The trial picked up the day after the 119th edition of the Boston Marathon with a one-hour delay. Tsarnaev entered the courtroom smiling.
U.S. District Judge George O'Toole began the proceedings by reminding the jury of the weight of their responsibilities.
"The law leaves this decision to you, the jury," he said. "It is impossible for me to overstate the importance of the decision before you."
The jury must unanimously decide on a sentence for each capital count separately. To do so, they must find that the defendant was over 18 years old when the crime was committed, find that the prosecution proved the crime was committed with intent and the existence of a statutory aggravating factor, or any circumstance that makes the crime itself worse.
With that, the prosecution began its opening statements.
"Unbearable, indescribable, inexcusable," federal prosecutor Nadine Pellegrini said in reference to Tsarnaev's actions.
The prosecution put up easels with photos of the three victims killed by the bombings and Sean Collier, the Massachusetts Institute of Technology police officer who was shot and killed in his patrol car by the Tsarnaev brothers on April 18, 2013.
"Now these beautiful faces are memories. They're symbols even of loss," she said. "Dzhokhar Tsarnaev took them all away in the most painful and brutal way possible."
Pellegrini went on to address all of the factors the jury would need to look for in deciding Tsarnaev's fate, pointing out that he was just three months shy of his 20th birthday at the time of the bombing, carried a weapon of mass destruction and carefully calculated the detonation of the bomb.
"He simply is callous and indifferent to human life," she said.
In a shocking ending to the prosecution's opening statements, a photo was shown of Tsarnaev, taken when he was being held at a holding cell at the Moakley Courthouse in July 2013, showing him putting the middle finger up to a security camera.
The first witness to testify Tuesday on behalf of the prosecution was Celeste Corcoran. She was at the 2013 Boston Marathon to watch her sister, Carmen, run her first marathon.
"This was her first marathon. It was supposed to be one and done," she said. "I watched her train so hard. There was no way my family was going to miss her running that marathon."
Corcoran traveled from Boston to Lowell that morning with her husband, Kevin, and her daughter Sydney.
After moving around the area of the finish line, Corcoran and her family ended up watching in front of Marathon Sports.
Corcoran was presented with a photograph of the immediate aftermath of the bombing. She described what she remembered from the scene.
She said she remembered seeing a thick black smoke and not being able to breathe. She was thrown up into the air by the blasts and collided with another spectator, though she said she doesn't know who.
"I remember just hearing bloodcurdling screams," she said. "I remember just seeing blood everywhere and debris falling from the sky."
When she got her bearings, she saw blood everywhere, looked down and noticed that her foot was at an odd angle. That was when she began to feel pain.
Her husband was with her. She didn't know where her daughter was in the chaos, but she said she thought she was OK.
"I just raised my arms to cover my eyes because I didn't want to look at anything else," she said.
She was taken to Boston Medical Center where a doctor told her that both of her legs would have to be amputated, she said through tears.
In addition to being a double amputee, Corcoran's ear drums were blown out by the blasts, she sustained shrapnel injuries and has debris embedded in the right side of her face and thigh.
After the mid-morning break, Gillian Reny took the stand to testify.
Reny, 20, is a sophomore at the University of Pennsylvania and a native of Boston. Going to the marathon is a family tradition for her as both of her parents have run it several times. Her older sister, Danielle, was running in 2013, and her whole family came out to cheer her on.
Reny and her parents were standing between Marathon Sports and LensCrafters, right next to Krystle Campbell, when the bombs went off.
"I looked down at my legs, and there was so much blood," she said, crying. "My tibia had been completely snapped in half. There was muscle everywhere. It was the most horrifying image I had ever seen."
Blood pooled around her and the muscle in her left leg was flapping over her shredded jeans.
"I was shocked that that much blood could come out of someone," she said. "I felt weak. I thought I was going to die. I didn't know that you could be that injured and survive."
Reny's legs were only salvaged because her veins were unharmed. Hardly any flesh was left connecting the top of her leg to the bottom. Muscle was taken from her abdomen for her legs, but there are still chunks of her legs that are missing.
The trial resumed after the lunch break with William Campbell III, the older brother of Krystle Campbell, one of the three victims of the bombing two years ago.
Though he was two years older than his sister, Campbell described his close relationship with his deceased sister.
"She was always there for me, and I was there for her. That's just the way it was," Campbell said. "When I had my low days, she'd be there for me."
He also explained how her work ethic set her apart from her peers, proven by how she paid for her own college education and began working at the age of 14. He then reminisced about how she had cared for his son, who is now 6 years old.
"She loved my son," he said. "She would have done anything for him."
When asked about finding out about her sister's death, Campbell explained that he received a call from his sister's phone number, but it was not Krystle on the other end. A nurse shared the news that Krystle was among those who had been injured by the blast.
The next news he received was that it was not his sister who had been in surgery, and that there had been a mistake of identification. A homicide detective then explained to Campbell and his parents that his sister was among those that perished, he said.
"It wasn't real at first," he said. "I had a hard time dealing with it. I went to bad places, probably did the wrong things."
The prosecution then reviewed family photos of the Campbell family through the years.
William Campbell Jr., Krystle Campbell's father, then took the stand as a witness, beginning by describing his relationship with his daughter.
"Krystle was the light of my life, Billy's life. Extremely smart, hardworking, beautiful. Every father's dream," he said. "Princess was her name. I never called her Krystle."
He also said he saw Krystle at least twice a day, because he and her mother babysat her dog.
Campbell also explained how he found out that his daughter died, after waiting 10 to 12 hours in the hospital. He then described passing out immediately after hearing the news.
"[Krystle's death] one of the toughest things any parent has to go through. I wouldn't wish it on any parent," Campbell Jr. said.
The jury then reviewed more Campbell family photos, including ones taken at Krystle's first birthday, her first communion and her prom.
"I miss my hug every day," Campbell Jr. said. "She never left the house without a hug every day."
Next to testify was Nicole Gross, a survivor who was spectating at the finish line when the bombs went off. It was her first time in Boston.
"I was my mom's coach to help her qualify for the Boston marathon," Gross said, who had previously swam competitively at the University of Tennessee.
She described how she was standing at the finish line with her husband and sister, attempting to push toward the front to have a better view of her mother crossing the finish line. It was then that the first bomb exploded, she said.
"As I woke up, instead of facing the flags, I was looking down the street, and I saw nothing," Gross said. "My right quad was blown open. I could feel my shoes dangling by just threads."
She described first responders wrapping tourniquets around her legs and being ushered into an ambulance.
"I just laid there, asking them to keep calling [her family], and they gave me pain meds," Gross said. "I remember laying there completely alone."
Gross then described her injuries, which included a blown out ear drum, a broken tibia and fibula in her leg, a severe right ankle injury, an almost-severed Achilles tendon, as well as soft tissues to her groin. She has had between 10 and 11 surgeries, including fixing complications to a filter in her groin resulting in 20 staples along her abdomen.
Her sister's injuries included the loss of one leg beneath her knee, with over 20 surgeries since 2013.
The trial concluded with the display of graphic images of Gross and her sister immediately following the bombs.