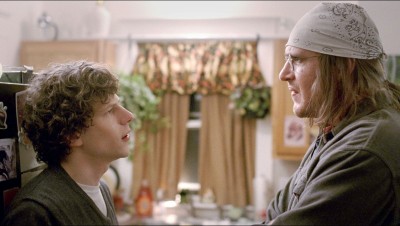 After the initial announcement in late 2013 that James Ponsoldt would be making a film about the late David Foster Wallace titled "The End of the Tour," the Internet was ablaze with skepticism and, of course, outrage. From faceless hordes of online commenters to the Wallace estate itself, the invective flew, at the casting, the content and largely at the fact that Wallace, a very introverted person, would never have wanted this film to be made.
But you would never know all that from the warm reception the film, Ponsoldt and star Jason Segel received Wednesday at the opening night of Independent Film Festival Boston at the Somerville Theatre. A well deserved reception, for "The End of the Tour" is a superbly acted and deeply nuanced film. A film that, it could be argued, Wallace himself might have tolerated and maybe even liked.
The story follows only a few days in the tragically short life of Wallace (Segel) as he's shadowed by Rolling Stone writer David Lipsky (Jesse Eisenberg) in the final week of his book tour for his much-lauded 1996 novel "Infinite Jest." Lipsky turned his experience on the road with Wallace into the 2010 book, "Although of Course You End Up Becoming Yourself," upon which the film's script, penned by playwright Donald Margulies, is based.
In a post-film question-and-answer session, Ponsoldt said Margulies, his former teacher, sent the script his way and it "rocked me to my core." A huge Wallace fan, Ponsoldt said that he even had a verse of Wallace's 2005 Kenyon College commencement speech, "This Is Water," read at his wedding. He knew the film was something he wanted to pursue, even if it "terrified" him.
"You have to make movies about things you love and about things that scare you," he said.
Many still see Wallace as extraordinary, an almost mythical figure in the literary world. But Segel found inspiration in the messages of sameness in his writing, he said, by Wallace's acknowledgement that maybe most of us aren't so special after all.
How fitting, then, that the things that at first drive a wedge between the pair in "The End of the Tour" are so very pedestrian: a fight over Wallace's ex-girlfriend, a debate over whether late-night pancakes at IHOP will be charged to Wallace's expense account or Lipsky's. Things bubble over in a heated conversation between the two in Lipsky's rental car.
"Not everyone can be as brilliant as you," Lipsky spits when Wallace asks why he can't remember where his car is parked at the airport.
The thing is, Wallace says once they've hit the road, he isn't brilliant. He is and always will be just a regular guy, a trait he admires in himself as a writer. Lipsky can't fathom this, sure that it's all an act. Admitting the dissonance between your perception of an idol and the actual incarnation of that person is never easy.
Although action is sparse — the Davids eat a lot of junk food, they see 1996 action thriller "Broken Arrow" at the Mall of America, they take a walk through the scenic emptiness of Wallace's astoundingly average home in the snow-covered Midwest — the film is never dull, driven instead by the remarkably complex relationship formed by two literary geniuses in a matter of days.
Ponsoldt said he sees the film as an "unrequited love story" between these two men, revolving around the ideas we foster about self-worth and achievement.
For Segel, the film started off with a similar meaning. But, he said, as he spent more time with Eisenberg, driving to and from the set together, that changed into one of self-perceptions, regrets and the passage of time.
"It's about a guy talking to his younger self," he explained. "The self on the other end of the tunnel."
Regardless of how you skew it, the emotions of "The End of the Tour" run fast and deep. As put by question-and-answer session moderator and WBUR reporter Jack Lepiarz, the film goes from "gut-bustingly hilarious to mind numbingly depressing." (To which Segel replied, "That's my life.")
Many of the conversational scenes (which comprise more than half of the film) are packed with laugh-out-loud musings about life and pop culture. Lipsky questions Wallace about the Alanis Morrisette poster hanging in his kitchen, leading to fantasies of the singer eating a bologna sandwich. "Let me take you some place nice," Lipsky insists at one point before a smash cut to the two walking out of a McDonald's.
Things understandably grow more solemn when conversation turns to Wallace's struggle with depression and his suicide attempts. But it's the smaller, less overt moments that cut the deepest.
It's heartbreaking to watch Lipsky tear into a package from Wallace just a few days after he's returned to New York, only to discover it's a black loafer he left at Wallace's house accompanied by a Post-It note: "Yours I presume?" with a smiley face in the bottom corner. Lipsky continues to dig his hand into the cardboard box, tossing crumpled newspaper aside and searching for something, anything. For the umpteeth time in the film, he comes up empty-handed.
Anchoring these moments are incredibly thoughtful performances by Eisenberg and Segel. The doubts surrounding Segel's selection — a comic actor in a serious role — seem especially unfounded after only an initial viewing, where he's easily at his career's best. Although he said he stayed out of the Hollywood gossip sphere the moment he was casted, Segel seemed aware of the nature of these comments.
"I didn't want it to feel like, 'Watch Jason Segel try to do acting,'" he said, to raucous laughter from the crowd.
Conversely, Segel's Wallace feels distinctly lived-in. He becomes the droll, bandana-sporting center around which each scene unfolds.
"It was very important to understand everything I was saying," Segel said. Which sounds simple, he concedes, but really means trying to understand the "layered depth" of Wallace's conversations with Lipsky that were captured on tape. "I didn't want to sound like I was just saying words."