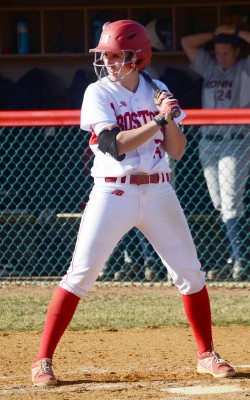 The Boston University softball team will host Colgate University this weekend in a key Patriot League series with playoff implications for both teams.
The Terriers (13-24, 4-8 Patriot League) are two-and-a-half games out of fourth place in the conference and a spot in the Patriot League Tournament, while Colgate (14-13, 9-3 Patriot League), currently in second place, is looking to maintain its position within the playoff structure.
"Any time you play a conference team, this is what you prepare all year for," said BU coach Kathryn Gleason. "Especially for us, it's our first true home series. We're really looking forward to it and celebrating the seniors as well."
The teams will play two games on Saturday, beginning at noon, and they will conclude the series with Senior Day at noon on Sunday.
Sophomore Katie Bushee leads Colgate with a .407 batting average, 26 runs scored, .490 on-base percentage and 14 stolen bases this season, while sophomore Tara Grennan leads the Patriot League in home runs with nine. In the circle, Colgate presents a three-headed attack. Junior Brigit Ieuter, freshman Kira Griswold and junior Megan Carnase have each split time, posting a combined 3.18 ERA, 14-12 record and six complete games.
Colgate is coming off a weekend series in which it dropped two of three games to the College of the Holy Cross. A Bushee two-RBI triple in the fourth inning of game one earned the Raiders their only victory of the weekend. Bushee had a bid for another clutch hit in the second game of the doubleheader, but the tying run in junior Alex Gadiano was thrown out at home attempting to advance on Bushee's double. Colgate also dropped a one-run decision on Sunday, allowing a two-run double in the sixth inning that put Holy Cross ahead for good.
"If you look up and down the Patriot League this year, there's some great offensive players and some great pitchers who have put in some tremendous performances," Gleason said. "Having gone to Colgate last year, we're very aware of Bushee and what she brings to the table. We've seen some pretty tough hitters this year."
BU is coming off a 10-6 win over the University of Massachusetts Amherst on Wednesday afternoon in the Terriers' first home game of the season. Tied at 6-6 in the bottom of the fifth inning, sophomore shortstop Brittany Younan delivered a two RBI single and later scored on freshman infielder Jilee Schanda's single that gave the Terriers a 9-6 advantage. Junior Melanie Russell picked up the win for BU, pitching the final 3.1 innings and allowing just one hit.
"Having the opportunity to play and practice at home has been a big deal for us, just getting out there and playing in some different combinations," Gleason said. "Winning the Lafayette series helped our confidence and then the wins over Harvard and UMass were great wins. It's always great to win those rivalry games."
After this weekend, BU will have one final Patriot League series as they travel to take on Bucknell University next weekend. BU is currently two-and-a-half games behind the United States Military Academy for the final playoff spot, but Gleason said her team's focus is solely on this weekend.
"The mentality is always one game at a time," Gleason said. "We just focus on the game. If we look too far ahead, that's going to take our focus away from what we're doing on that day. We're just going to take it one game at a time and do what we need to do, and we'll worry about the rest at the end and see where we are."