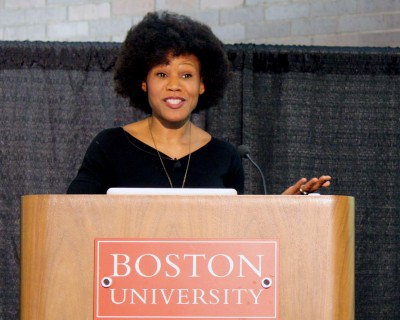 Majora Carter, an urban revitalization specialist and Peabody Award-winning public radio host, spoke at Boston University Thursday as part of the community forums hosted by the BU Board of Trustees' Advisory Committee on Socially Responsible Investing.
The forums are intended to provide insight to the BU community about current issues such as divestment from fossil fuels, Dean of Students Kenneth Elmore said before he introduced Carter to the stage.
Carter's talk, which was titled "Home(town) Security: A Talk About Urban Revitalization and Sustainability" revolved around divestment on a local scale. She focused on community issues such as helping struggling neighborhoods reinvent themselves.
"[Learning from projects] is when real work happens. You have to start refining it and watch how people use it … and you refine it in a way that makes it better," she said. "Then only after, you begin to reiterate and expand that model to make it so it's something folks really want to take in."
About 50 students, professors and ACSRI members attended the talk in the small ballroom in the George Sherman Union.
Carter spoke about developing a dump into a national award-winning park in the Bronx.
"There weren't a lot of folks who were using it, so again we learned from this, and thus we refined what we were doing, which was get more activities to the park [and] program it to a crazy extent," she said. "It has since become this incredible place where the local community comes and of course the working community will come as well."
Carter said poor neighborhoods could benefit more if gentrification were a community effort rather than an external one. Selling valuable property to the highest bidder does not promote the change these communities need, she said.
"People like to think of it [gentrification] as a tidal wave, like once it's coming, you just better get out of the way, but maybe we should start thinking about it more like the wind or the sun, and if you harness that power, you can use it to your benefit," she said. "You don't have to move out of your neighborhood to live in a better one."
Following the presentation, audience members had the opportunity to ask questions. Some brought up climate change and the topic of the Board of Trustees potentially divesting from fossil fuels.
Ari Stern, a BU alum who graduated in 2013, said the forum was interesting, but he did not understand how it relates to the university's ongoing conversation about fossil fuel divestment.
"Majora is a wonderful woman who does amazing things, like really amazing and inspiring things," he said after the talk. "[But] I don't feel like it's possible for us to make the change … because the oil industry and their money is suffocating our system … This talk was about housing and problem solving, but only on local levels."
Caroline Birsner, a member of Divest BU, acknowledged how Carter's talk could help the group approach the issue in different ways.
"What I took away from it most was that we need to be more broad in our approach, I guess because Mejora Carter didn't speak a whole lot about climate change in her presentation, but she did acknowledge that it's a part of a lot of broader community and urban issues," said Birsner, a senior in the College of Arts and Sciences.
Kimberly Barzola, also a member of Divest BU and a sophomore in CAS, said Carter offered valuable information, but it was not exactly related to climate change.
"I definitely was thinking about … the larger picture because a lot of this talk was more focused on the present issues and, like she [Carter] was saying, her approach has been very intersectional and the sort of social justice component," she said. "When you start thinking about social justice, it's always that very human and present thing that's sort of on you, so it's the easiest to relate to."
Brielle Dojer, another member of Divest BU and Students for a Just and Stable Future, said she thought Carter put a new perspective on the divestment movement.
"It was interesting because her responses were all about making people in those communities care," said Dojer, a junior in CAS. "What it did for me was just bring up and remind me of this other component of the communities of people who are going to be affected by climate change the most, or are being affected but aren't necessarily seeing those connections and how they are relevant."