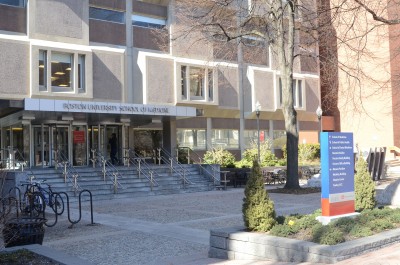 Boston University ranked sixth in the nation for its biomedical research to address global health, according to the 2015 University Report Card released Tuesday from the Universities Allied for Essential Medicines.
"The majority of the country's major research universities — including leading Ivy League institutions — are not doing enough to advance biomedical research for neglected diseases or to make their life-saving medical breakthroughs available for the people who need them most," a Tuesday press release stated. "The University Report Card shows that universities are missing this key opportunity to lead."
The report graded universities on a number of criteria, including innovation, access to make medical breakthroughs and empowerment of its students to pursue global health initiatives, the release stated. BU scored a "C" on innovation, an "A-" on access and a "B+" in empowerment, resulting in an overall "B" grade.
In 2013, BU ranked 35th nationally and earned an overall "C-" grade, the 2013 report stated. BU earned an "F" in innovation, a "C+" in access and a "B-" in empowerment.
Frank Feeley, a professor of global health in the School of Public Health, said BU's improved ranking makes him interested to see how the university will continue to improve their involvement in global health.
"There is not a lot of biomedical research done in the School of [Public] Health," he said. "The focus is much more clinical. At this point, we don't have as big a lab presence in some of the interests of global concern. There is no Malaria vaccine research. There isn't as much coming out of the lab because our high-tech infectious disease lab hasn't opened because of community controversies."
Feeley said the community was apprehensive about allowing the infectious disease lab to progress in any real way due to its highly dangerous presence. Because Boston is such a highly populated area, the lab has had trouble attaining certain permits because of safety concerns, he said.
"The university is serious about its global health commitments. I would hope this ranking would change research for the better," he said. "In the curriculums in form of change in pharmaceutical policy, we will be training more people about forms of pharmaceutical access."
Several students said having a high rank contributes to BU's reputation in the global health sciences.
Kaitlin McCarthy, a sophomore in the Sargent College of Health and Rehabilitation Sciences, said she is excited about in BU's global health ranking.
"We should always be doing more to advance medicine," she said. "What sets BU apart is the fact that it's a large research university in Boston, a major medical city. The program jumping up so many spots shows that BU is really improving. We could still improve by becoming even more innovative and focused on research."
AJ Goncalves, a sophomore in Sargent, said the work and resources at BU contribute to the high ranking.
"We have a number of programs and resources that are offered to the students to increase our global health engagement and our education, as well as research dedicated to helping people and curing diseases," he said. "The numerous opportunities for students to aid in research, conduct research of their own and join a variety of clubs and organizations dedicated to global health through BU is what sets us apart from the other universities."
Anna Marin, a freshman in the College of Arts and Sciences, said university research is important when it comes to new innovations in global health.
"It is amazing to be searching for innovation, but at the base of innovation that has to be the realization of the problems that already discovered solutions have," she said. "What sets BU apart is the accessibility and opportunity that offers to students who have the will, but not the means to concretize their idea."