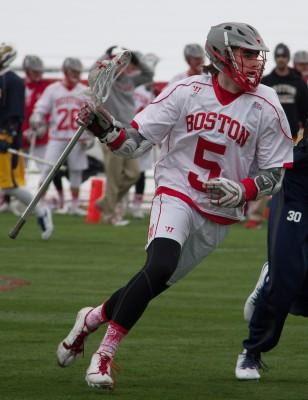 Although an away matchup at No. 5 Duke University on Sunday still remains for the Boston University men's lacrosse team, its 2015 season is going through its final days nonetheless.
The Terriers (6-7, 3-5 Patriot League), who are finishing up their second year as a varsity program, have grown considerably when compared to their inaugural NCAA campaign in 2014. BU's first season finished with a 2-12 record, and from that barometer alone, this year can objectively be considered a success.
While the Terriers narrowly missed out on the Patriot League Tournament after dropping a 12-10 decision to the College of the Holy Cross on April 17, growth has been observed in all facets of the game. Most notably, the program achieved a national ranking for the first time, beat a ranked opponent for the first time and carried a winning record all the way into mid-April.
"We are really pleased," said BU coach Ryan Polley. "It's been a great step forward in so many ways, and it's hard because over the last few weeks, we've been so close to the Patriot League Tournament. Watching the teams play this weekend, it's challenging to get past that. But certainly if you look at the season as a whole, it has been a very successful year. "
While Polley said the taste of missing out on postseason play is slowly wearing off, the success the Terriers achieved in 2015 illustrates individual and team growth.
A major reason for improvement on both sides of the ball has been the steady progression of returning players, as well as the introduction of several freshman stalwarts. Sophomore midfielder Cal Dearth, who was named BU's Offensive Player of the Year in 2014, garnered First-Team All-Patriot League honors this year.
Meanwhile, sophomore faceoff specialist Sam Talkow earned Second-Team All-Patriot League honors, and sophomore goalkeeper Christian Carson-Banister, who was the team's MVP in 2014, has put together another strong season in the cage. In terms of freshmen, the attack duo of Ryan Hilburn and Jack Wilson both posted 35-plus point seasons.
With those kinds of contributions leading the way and another year of experience under everyone's belt, Polley said there is reason to believe that a great deal of development still waits ahead.
"We got contributions from a large variety of players, and when we were playing our best lacrosse, we were the most deep," Polley said. "It's going to be a challenge for us going forward, with guys continuing to work on their skills and continuing to get better from year to year. The expectation is all of our returning guys will work hard over the summer and we'll start a whole new year, which we're all really looking forward to."
While all of the aforementioned elements make up some of the Terriers' strongest moments in 2015, the fact of the matter is growing pains still occurred. After recording an 11-9 victory over a then-ranked Bucknell University squad on March 21, BU failed to win another game and is currently enduring a five-game losing streak.
Nearly every game has been tightly contested during that timespan. Considering that, Polley said BU is still searching for a way to consistently handle adversity and is doing so by turning every setback into a learning experience.
"We're still very young, and there still are growing pains," Polley said. "We need to figure out how to handle challenges as well as successes, and although we wish we did a little bit of a better job, it has been a huge learning experience and step forward."
As the 2015 season's final game against Duke (11-5) now nears, Polley said the Terriers are confident that their steady growth will translate into success on the field against the Blue Devils and beyond. The bar has been raised significantly, and responding to that increased standard will define the constantly evolving history of the program.
Players will be older, adversity will be dealt with and every experience will mold the team's collective and individual approach to each game. The Terriers also have their sights set on building off an already strong second year and cementing themselves in the Patriot League and national picture.
Before getting to that point, Polley said he knows that nothing will be given to the Terriers. Every victory must be earned regardless of what challenges stand in the way.
"Next year … a majority of our team will have had at least one year of experience, and a lot of guys will have two years of experience," Polley said. "The expectation is going to be set that much higher and that's certainly a good thing, but, as we learned this year, nothing is ever given to you. Everything we accomplish has to be earned."