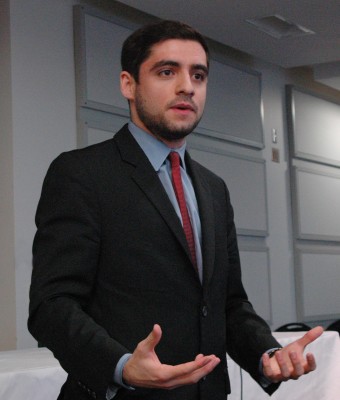 Students from the Global Development Consortium hosted Boston University's first GDC Symposium Monday featuring undergraduate groups, professors and non-governmental organizations.
GDC is a network for student groups to take social action and participate in interdisciplinary studies, said co-founder Jake Awtry.
"Our goal is establish more of a global development program," said Awtry, a junior in the College of Arts and Sciences. "Right now some groups are acting as disparate parts and the main point of global development is that there are so many different perspectives that you can't work with them separately so we can only achieve our goals by working together."
Approximately 60 students attended a showcase of 15 student organizations and two panels that presented experience from professionals and professors in the global health field.
Keynote speaker Sam Vaghar co-founder of the Millennium Campus Network, founded the NGO when he was a sophomore at Brandeis University. Inspiration for MCN came after reading books that changed his life, he said.
"We are not about reinventing the wheel," he said. "Our challenge is how to become more effective and more sustainable."
Kate Clopeck, co-founder and executive director of the NGO Saha Global: Solving Problems Through Opportunity, encouraged students to pursue their passions and not get caught up in monetary worries.
"I wake up every single day excited about my job," she said. "I worked at corporate America and made great money. For me, this is what my passion is and for others maybe it won't be. This is what makes me feel alive."
Steven Fox, managing director of the NGO Sunizorro Investments, told students to expand their skill set.
"There's great value in multidisciplinary things. I'm not an engineer, for example, and I had no idea what I was doing," he said. "I would have taken language classes. Any language is useful all over the world. Fundraising is a big issue and it is important to lean on companies like MCN that are here to support you."
Fox said it is important for students to network and expand their connections.
"You'd be surprised what networks you have," he said. "You're going get rejected a lot. Knock on doors. People are going support you more than your cause. You might have a great plan. Pitch yourself on your ability to adapt and that'll go a long way."
Abigail Kelble, the programs director for the MCN, leads the group's annual conference and fellowship. She offered advice as about how to avoid a failing non-profit business.
"Most businesses fail. Most businesses have waste," she said. "We have to think about what we mean by what you want to make of it like a business. Try not to put business on an ideal of 'That's what it has to be.'"
Jonathon Simon, founding director of the Center for Global Health and Development at BU and former director of the Harvard Institute for International Development, said it is important for students to go through life with a moral attitude.
"My first job was to go out to a village in Tanzania with a deep commitment to justice," he said. "I encourage you to think about what your ethical and values are as a student."
Several students said they found the symposium inspiring and informative.
Rachel Eckles, a sophomore in CAS, said she attended to represent Students for a Just and Stable Future, a student group that advocates that the BU Board of Trustees divest from fossil fuels.
"Ultimately the goal of our cause is that the effects of crime change don't affect developing countries disproportionately," she said. "I'm really interested in global development just in general."
Deepti Venkatraman, a BU graduate from the Sargent College of Health and Rehabilitation Sciences, said attended the symposium to hear from like-minded people. She is part of a weekly live online global broadcast called This Week in Global Health, she said.
"I eventually want to get my master's [degree in public health]," she said. "[I want to] engage students. Sometimes when you think of global development you think you need experience, which isn't true."