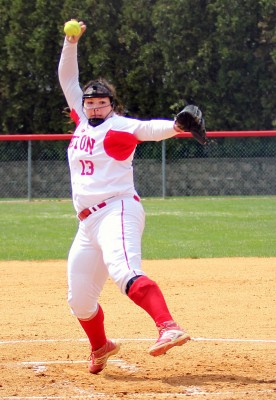 With Tuesday's doubleheader against Stony Brook University canceled weeks ago, the Boston University softball team will be preparing to defend its seven-game win streak against in-state rival University of Massachusetts Lowell on Wednesday afternoon for just its fifth and final home game of the season.
In addition to winning their last seven contests, the Terriers (16-24, 7-8 Patriot League) have won eight of their last nine, their only loss during that stretch coming at the hands of Patriot League leader Lehigh University on April 17.
The Mountain Hawks' (33-7, 13-2 Patriot League) shutout of the Terriers was the only game during the current stretch in which the Terriers were held scoreless. In all eight other games, the Terriers have scored at least two or more runs, plating six or more on six separate occasions, averaging out to 7.71 runs per game.
On offense, the keys to the Terriers' success have been both their ability to get runners into scoring position and subsequently driving those runners in from scoring position. During this current seven-game streak, the team is batting .285, but even more impressive is its average with runners in scoring position. The Terriers have batted .358 with runners in scoring position over their last nine, leading them to average just under eight runs a game.
The Terriers have relied on speed to get their runners over, with sophomore centerfielder Moriah Connolly, freshman right fielder Emma Wong and sophomore shortstop Brittany Younan accounting for 19 of the Terriers' 24 steals over the last nine games.
Once they get runners over, the middle of their order, most notably senior second baseman Emily Felbaum and freshman third baseman Jilee Schanda, have gotten runners in with 10 and nine RBI, respectively, both of whom have utilized the long ball to do so.
BU coach Kathryn Gleason said she is pleased with her team's ability to put together offense as of late.
"Everyone knows what their role is, and having them on base [is important]," she said. "We just talk about how we just need base runners and we don't care who it is. We just need to have production from everybody, and every day it's different. Speed never takes a day off, and that's part of our game and we're fortunate to have the three of those girls [Connolly, Wong and Younan] at the top of our lineup to be able to get on base, steal some bases, create some offense for us and put some runners in scoring position."
The pitching has also been clicking as of late. Since April 14 at Harvard University, the Terriers have let up more than three runs only once — a victory against the University of Massachusetts Amherst. Sophomore pitcher Makinna Akers and junior pitcher Melanie Russell have been great during the current stretch, allowing a combined 21 runs in 54 innings, or a 3.50 ERA. Akers has been the better pitcher, accumulating a 2.38 ERA in the stretch with more than double the innings of Russell.
The Terriers' Wednesday opponents, the River Hawks of Lowell (16-29), have struggled mightily, having dropped six of their last seven. Their only win of late was a 7-3 victory in the second game of a doubleheader against the University of Albany on Saturday, but even with the win, their stats don't look good.
Over their last seven, the River Hawks are batting a forgetful .201, and averaging 2.29 runs per game. In the circle, River Hawk pitchers have posted a 3.92 ERA. Take away the one victory and the stats get even worse — a .175 average and a bloated 4.07 ERA.
When asked about the pressures of the win streak and the potential to underestimate their opponent, Gleason said the mentality doesn't change and that everything is going to prepare them for their final conference series this weekend against Bucknell University.
"We just want to take advantage of every opportunity we have to play," Gleason said. "For UMass Lowell, that'll be their last game of the season, so they're going to be fired up to play. They'll be fired up to come to Boston, so we approach it like we do every game. Every game is important. Every day is an important step to improving and preparing us for the weekend."