Massachusetts Gov. Charlie Baker and Lt. Gov. Karyn Polito, working alongside Massachusetts Attorney General Maura Healey, reinstated the Governor's Council on Sexual Assault and Domestic Violence Monday to reestablish the council's overview of programs meant to diminish levels of sexual assault and domestic violence, according to a Monday press release.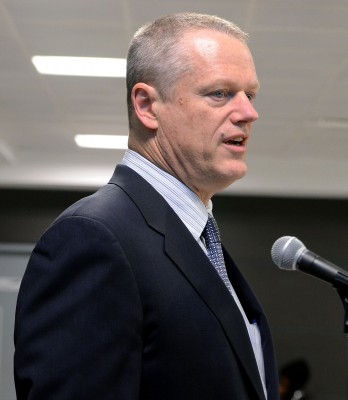 The Massachusetts Department of Public Health's Rape Crisis Centers recorded over 2,000 incidents of sexual assault between July 1, 2013 and June 30, 2014, the release stated. Additionally domestic violence was identified as the leading cause of injury among females between the ages of 15 and 44.
"I'd like to thank Governor Baker and Lt. Governor Polito for reestablishing this council to oversee the implementation of the domestic violence law," Healey said in the release. "We are committed to working together to make sure that every resident of Massachusetts has the opportunity to live a safe and healthy life, free from violence."
After naming April Sexual Assault and Domestic Violence Awareness month, Baker was pleased to sign the executive order, the release stated. The order intends to target support services and provide legal protection for victims, awareness and education efforts and accountability of assailants.
The council will eventually host a minimum of 30 members working under Polito and will include heads of sexual assault and domestic violence aid corporations, existing program directors and the Police Chief Mark Dubois of the Maynard Police Department.
"We worked actively in past government councils and have seen them as a great opportunities for people to get together and work on issues relating to domestic violence," said Maureen Gallagher, director of policy at advocacy organization Jane Doe Inc. "Hopefully, the council will continue to take on whatever issues in relation to sexual and domestic violence that need to be addressed, such as housing and homelessness. It is an opportunity to move forward."
The council will implement Chapter 260 domestic violence legislation aimed at reducing sexual assault and domestic violence previously enacted in 2014, the release stated.
Several residents said they support the reinstatement of the council.
Jean Binjour, 37, of Hyde Park, said she supports Baker's efforts to raise awareness for issues that are too often thought to be rare.
"It's good that he is addressing this because over the years, I've always heard of assaults happening on the T, or a typical place where assaults usually happen is Jamaica Pond," he said. "To bring that to the forefront and have people more aware and proactive in protecting themselves from being in situations like that is important. We live in a city … so we figure that things like that don't happen with too many people around, but it evidently happens."
Giselle Ramirez, 19, of Dorchester, said the areas with higher instances of sexual assault should be made known to the public.
"I [can't] say specifically, but there are some communities or some areas of Boston that are bad but not as bad as others," she said. "In most communities, there are a lot of kids, and it's important to not have that around children especially."
Maha Chourafa, 38, of Jamaica Plain, said sexual assault prevention is a valuable pursuit to put tax dollars toward and will benefit everyone.
"We want to be able to have people to not have fear when they are taking public transportation and walk in their neighborhoods without having the fear of being assaulted," she said. "It makes [life] more livable, more walkable. It's taxpayers' money. So it's important that … you put tax money toward general expenditure. Put the money where your values are."
Julianna Narita contributed to the reporting of this article.