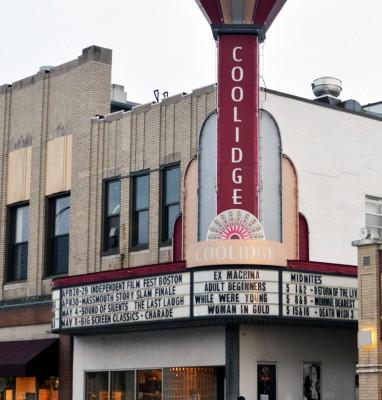 At one point in "Me and Earl and the Dying Girl," the closing film at this year's Independent Film Festival Boston on Wednesday night, the eponymous dying girl snuggles into our protagonist's arms. "This is the part where she'd say all the wise and beautiful things you learn in life's twilight years," he tells us. A moment later they're apart — he looking lost and she looking miserable. This is the reality that our protagonist is faced with. The previous scene was just part of a story.
There was much talk of stories at the packed Coolidge Corner Theatre. The logo of this year's IFFBoston, an illustrated marshmallow over a blazing fire, calls to stories told under starry skies. Managing director of the festival Brian Tamm talked at length before the start of the screening about the power of stories to bring us together, how we all gather as strangers under the premise of watching a film and, in the process, become an audience united.
But none of these stories could have come together without the hard work of the IFFBoston staff, Tamm reminded the crowd, which is composed almost entirely of volunteers. Tamm thanked many, but brought program director Nancy Campbell onstage — the one responsible for assembling the slate of 109 documentaries, shorts and narrative films screened over the course of the festival, which started on April 22.
"She's the DJ. I'm the rapper," Tamm said.
The eager crowd, warmed up with a delightfully strange pre-screening theremin set including "Somewhere Over the Rainbow" and "Video Killed the Radio Star," dutifully applauded through Tamm's many thank-yous before the New England premiere of "Me and Earl," which garnered the U.S. Grand Jury Prize at the Sundance Film Festival earlier this year.
"Me and Earl" lays it all in the title. The "me" is Greg Gaines (Thomas Mann), a senior in high school who prides himself in his ability not just to blend in but to float untethered from one stock high school type (jock, goth, stoner) to another, making no enemies — or friends — in the process. He does this, he explains, by never committing to a conversation that doesn't seem "mellow" enough. "Ugh, tests. I've been there," he says flippantly as he breezes by a group of girls.
One of those girls, it turns out, is Rachel (Olivia Cooke). And her "test" was one that turned up positive for leukemia. When Greg's parents (Connie Britton and Nick Offerman) learn that Rachel is sick, they send him over to her house to spend time with her. Greg ropes in his only friend, Earl (RJ Cyler), whom he's known since they both bonded over a love of foreign film at the tender age of 8. (But Greg insists that Earl is just a "co-worker" — their love of film is translated into a large repertoire of their own homemade features.)
Mann shines as the blonde mop-topped Greg, capturing all the energy and lovability of a yellow lab. "We're not on drugs," he blurts to Rachel after consuming some pot cookies and then swearing Earl to secrecy about the whole ordeal. Mann is also impressively adept at switching gears, capturing Greg's absurdly silly exterior ("Can you believe we let animals in our house?" he asks Rachel at one point. "Like real animals?") while balancing the inner turmoil hiding just beneath his sunny surface, playing his final scene with Rachel with the kind of emotion that hurts the heart.
All of the young actors, relatively unknown, are a highlight. Cyler is deadpan, tough but still remarkably sensitive. And Cooke is marvelous as the ailing Rachel, fearlessly playing the realities of struggling with cancer in one of the more formative years of her character's life (and actually shaving her head for the role, too).
Offerman, Britton and Molly Shannon (as Rachel's mother) all put in delightful terms as the parents, as expected. As Greg's sociologist father, Offerman dons something that looks like a muumuu and boasts an eccentric taste in cuisine (cuttlefish, anyone?), providing the zen yin to Britton's nervy yang. Britton herself is hilarious, getting the rare chance to flex her comic muscles.
And while the script is mercilessly smart and the performances are perhaps already a career best for this young cast, it's the camera work that really makes "Me and Earl" something to remember. Director Alfonso Gomez-Rejon and cinematographer Chung-hoon Chung, the latter of whom is best known for working on fast-paced thrillers such as "Oldboy" and "Stoker," bring the look of that genre to "Me and Earl," imbibing each scene with vitality and — more importantly — draining it when necessary.
As Greg goes to visit Rachel day after day, we follow him into her room over and over with a shaky camera. Greg and Earl have a conversation, and the camera captures the top halves of their face. In one of the more stunning shots, a young Earl and Greg careen down a sidewalk turned vertical. The film's Pittsburgh setting only amplifies this with its angular houses and narrow streets.
Adding to the whimsy are charming and illustrative claymation codas, spliced between the live action without warning. Greg describes the touch of a pretty classmate like a chipmunk being crushed by an unaware moose, then — SPLAT! It's before our eyes in vivid clay color. Earl and Greg's films are a recurring delight in the same vein, with titles like "A Sockwork Orange," ("A Clockwork Orange") "2:48 p.m. Cowboy" ("Midnight Cowboy") and "A Box of Lips — Wow!" (an "Apocalypse Now" parody featuring a box of tulips discovered by two weathered army vets). It's almost disappointing to see only bits and pieces of them throughout the actual film.
With its cancer connection and basis in a young adult novel, this film will perhaps draw comparisons to "The Fault in Our Stars." But while "Fault" was a Cancer Film, "Earl" is a film that deals more with the ideas of self-identity and mortality tied to cancer, and childhood cancer especially. "You're doing this to feel good about yourself," one of Rachel's friends tells Greg acidly at the beginning of the film. Are actions ever truly altruistic? Are we always just looking out for ourselves? The film grapples with this, as it deals with a different kind of illness. Greg isn't the one who's sick, but he struggles with issues of self-loathing and intimacy in a way that makes them just as real and important as if they were manifested physically.
The raw feeling captured in the script made it surprising that, when screenwriter/author Jesse Andrews took the stage after the screening, he wasn't, in fact, a high school senior. Still, this film hit close to home for him, he said. Very close.
"Greg's house in the film? That's my house," he said. When he took Gomez-Rejon to Pittsburgh to scout locations, he said, the director decided that he liked Andrews' home the best out of all the places they saw. They also shot the high school scenes in Andrews' old school, which he described simply as "strange."
As for the film's heavier elements, Andrews said he never had a classmate with cancer. But he did write the novel, published in 2012, when his grandfather was terminally ill.
"It's all about how you never say the things you wish you said. You never do the things you think you're going to do," he said.
Although he had nothing but praise for the people involved in making the film, Andrews did concede that he had always imagined his characters a bit drabber.
"You have the input that's kind of frumpy and then the Hollywood output is beautiful," he said, before conceding that it's probably for the best. "I'm actually too shallow to genuinely want that."