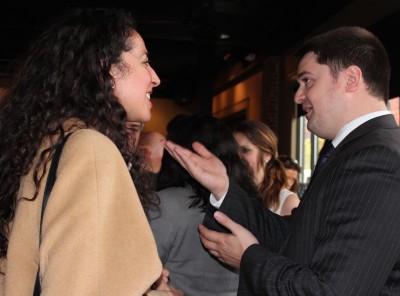 Boston City Councilor Josh Zakim has had plans to run for reelection for awhile, but that didn't keep the crowd from cheering when he made the official announcement at his campaign kickoff party Tuesday.
More than 40 people crowded into the narrow ground-floor room at The Mission Bar and Grill, in Mission Hill, where Zakim officially launched his Boston City Council re-election campaign for the November 2015 election cycle. After an introduction by Massachusetts Rep. Jeffrey Sánchez, Zakim stood on top of the bar — something he joked he hadn't done for a long time — to thank everyone for their attendance and support.
"It's about bringing people together. It's about saying whether it's Mission Hill, Fenway, Back Bay, we're all caring about the same issues," he said to the crowd. "And because of that, we've been able to work together so effectively."
Zakim represents District 8 of Boston, which includes the Back Bay, Beacon Hill, Fenway, Kenmore Square, Mission Hill and the West End, an area that includes the majority of the Boston University Charles River Campus.
Though he covers a wide variety of neighborhoods, each with a wide variety of issues, he said, he launched his campaign in Mission Hill because of its strong-knit community that serves as an emblem of the strong small businesses that can be found across the city.
Michel Soltani, 56, of Jamaica Plain, the co-owner of The Mission Bar and Grill, said that what makes Mission Hill special is its long-standing heritage, evident in the many generations of people that have grown up and stayed in the neighborhood. Zakim, he said, has shown his commitment to upholding that heritage and supporting small businesses.
"The past year, we've had a very, very positive change in this district," Soltani said. "In the 22 years I've been here, he's [Zakim is] the best we've ever had. He listens, he understands and he takes action … it's all about taking care of business."
Dermot Doyne, 52, of Braintree, said Zakim's genuine commitment to the business community has made him a "pioneer." As the owner of Penguin Pizza and the president of Mission Hill Main Streets, a local non-profit, Doyne said the Mission Hill neighborhood is one that can be easily forgotten, and Zakim has ensured that does not happen.
"Josh has brought responsibility," he said. "Of all the politicians we've had, he's very proactive in the community."
From here, Zakim is looking at May 19, the deadline for submitting the nomination signatures that will get him on the ballot. Once the Boston Election Department verifies the signatures, Zakim will know who his opponents are, and the bulk of the campaigning will begin.
"I don't think it's been a secret that we're running for re-election," he told The Daily Free Press toward the end of the kickoff. "We've had a really productive first term, and there's a lot of work I still want to do, in this neighborhood [Mission Hill] and in all the neighborhoods in District 8."
Before Sánchez left the party, he told the FreeP he has worked closely with Zakim over his first year and a half in office and quickly formed a close relationship with him.
"In that City Council seat, there is so much that goes on. Your eyes have to be open constantly," he said. "He's got a nice spirit about him. You don't see him looking for glory in anything. He seems genuine to me and really wants to help people."
Sánchez said he looks forward to working with Zakim over the next two years, should he be re-elected, and to continuing to focus on the goals they've had over the last two years, such as supplying affordable housing to more Boston residents.
"I know that I can call him, and he's gonna hear me out, and aside from hearing me out, he's gonna ask me, 'So what can we do to make sure that we get something done? … What do people really care about?'" he said. "That means a lot to me, because I feel like he's willing to listen. I've been around, and I've been in this business for a long time, and everybody wants to tell you. Everyone wants to talk at you, and I don't get that with [him]."
Doyne said Zakim's presence in his district's neighborhoods and the efforts he has made to help businesses and families make him more than qualified for re-election.
"He came out of the box running," he said, "and he's been running ever since."