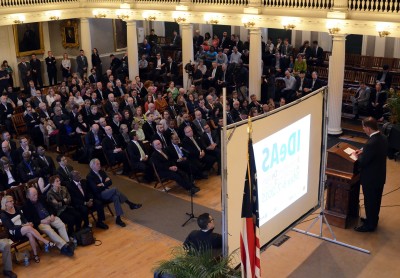 In an effort to revitalize city planning, Boston Mayor Martin Walsh announced an urban planning initiative called Imagine Boston 2030 at the Innovative Design Alternatives Summit at Faneuil Hall Wednesday.
Imagine Boston aims to enhance and modernize Boston's historic architectural landscape by 2030 through public engagement and inclusivity, Walsh said in his speech. This is the first urban plan in 50 years, and he hopes it will inspire collaboration with the future generation of leaders.
"Imagine Boston 2030 will bring our city together with an ambitious vision for our future. The citywide plan will create an economical and physical growth that will fulfill that vision," he said. "It will be a powerful and necessary resource for making Boston a leader on the world stage."
About 200 people attended the symposium. Brian Golden, director of the Boston Redevelopment Authority, gave opening remarks before Walsh and John Barros, the city's chief of economic development, moderated a panel of architecture experts.
Golden referenced a speech Walsh made in December, mentioning how history and future can be combined in the form of municipal buildings in the city.
"We can balance old and new and we can do it with imagination," he said. "The summit is a day long series of interactive panels. It also serves the opportunity to discover and plan the future of our city more broadly."
The summit allows attendees to be involved in framing how design would bring change and development to Boston's future, Barros said during his speech. The gathering will continue Friday with conversations about how to establish a firm and visionary process to implement the initiative.
Francine Houben, a Dutch architect, said during the panel that buildings are an important factor to shape and unify a neighborhood, recalling her involvement on the Bruce C. Bolling Municipal Building in Dudley Square in Roxbury.
Tamara Roy, the president-elect of the Boston Society of Architects, said that qualities in old buildings must be preserved in newer ones.
"Our planning process is broken," she said during the panel. "We should have community discussions and make community spaces. We need to fix, hopefully in this process, the community process. No matter what we do it [seems like a] bad game to begin with."
Clifford Gayley, a principal architect at William Rawn Associates, talked about getting the public sector involved and whether hosting design competitions could help the initiative.
"Competitions may not be the best approach," he said during the panel. "Most design competitions, up to 89 percent don't go anywhere. They just don't get built. There's a certain level of tentativeness in the process."
Robert Campbell, an architecture critic for The Boston Globe, said getting "architecture right" means a change in the way architecture is perceived.
"I want you to stop thinking about architecture as buildings. Architecture is the art of making places," he said to the audience. "Every building is in relation to other buildings and that relationship is important."
The gathering ended with a question and answer session, primarily focused on engaging young architects and minor firms in more urban planning for the future.
Several attendees said the initial part of the summit was effective and raised important topics to be discussed during the continuation of the summit.
Anthony Polidoro, 22, of Roxbury, said this issue has been important for a long time and he hopes that more in-depth conversations will take place.
"The fact that the city is in sort of a transition, which for a long time is looked at as a very historical city, [means] that [it] hasn't looked toward the future in many ways," he said. "I hope they have more things like this, because these are conversations that are needed."
Aleks Berger, 30, of Burlington, said the summit highlighted the importance of a more open process that involves young architects.
"The summit was very interesting. [It's] interesting how people are looking at it from a professional level," he said. "It's hard to break into the [architecture] world. It's a closed loop and it's hard to make many change."
Andrea Spector, 48, of Cambridge, said she lived in the South End for 30 years and is concerned about what the government is doing to address space and architectural issues.
"There's a lot of discussion that needs to happen for this city to evolve in a way that's sustainable for the diverse population that it has. Right now, they're not doing anything to address the economic rift, the cultural rift, the gaps in wage," she said. "I care about what happens to the city."