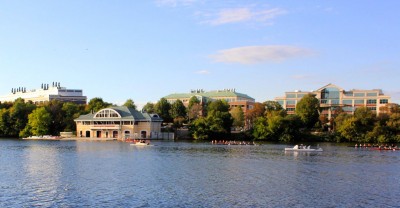 The Boston University men's rowing team will compete in the 113th IRA National Championship this weekend on Mercer Lake in West Windsor, New Jersey. The Terriers will send four boats to race in a field of 24 for the national championship beginning Friday.
BU will look to improve upon last year's performance at the event, when they placed sixth overall and won the Chapman Award for biggest improvement in points from year to year. The Terriers taking a place next to other premier collegiate programs is a testament to their work ethic and performance this past year, said BU coach Thomas Bohrer.
"This is always the biggest race of the year for all these teams," Bohrer said in a release from BU Athletics. "Obviously this is a huge tradition in rowing. This year is the 113th year of IRA competition. It's a time for the best programs in the country to get together and compete and it culminates a year's worth of work."
Seeded eighth in the country this season, the Terriers' varsity eight boat (8-1) has lost only to No. 2 University of California, Berkeley. In its first heat, the V8 will take on No. 1 University of Washington, No. 9 United States Naval Academy, No. 16 Oregon State University, No. 17 Florida Institute of Technology and No. 24 Santa Clara University.
BU's second V8 boat is seeded fourth after its silver medal performance at the Eastern Sprints. It will compete in its first race against No. 5 Northeastern University, No. 12 Dartmouth College, No. 13 Navy, No. 20 Florida Tech and No. 21 College of the Holy Cross.
Along with the V8 boats, the Terriers' varsity four boats will also compete in the championship regatta. The V4s will look to build on their performance at the Eastern Sprints, where they advanced all five boats to the grand finals and snatched two medals as well.
"The IRA regatta is an opportunity to show the best teams in the country what we've been training for all season," said senior co-captain Kep Edwards in the release. "Our goal is to get all four of our boats in the grand finals and to make sure we're racing to our fullest potential in all races."