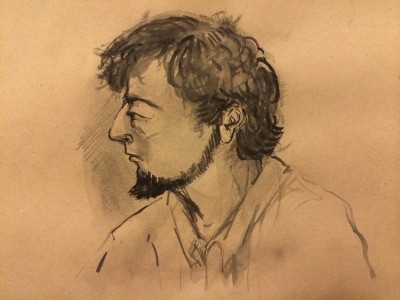 When Dzhokhar Tsarnaev helped his brother plant two bombs at the Boston Marathon finish line on April 15, 2013, his face became a recognized symbol of American tragedy. But as his face became etched in the minds of people around the country, his voice remained unheard. Until Wednesday.
Moments before U.S. District Judge George O'Toole formally sentenced Tsarnaev to death Wednesday, the 21-year-old former University of Massachusetts Dartmouth student stood before the court with an apology to the victims and their families. His voice soft and his eyes glued to his papers, Tsarnaev began his statement "in the name of Allah" and apologized for the "irreparable damage" he had done.
"Now, all those who got up on that witness stand and that podium related to us — to me — I was listening — the suffering that was and the hardship that still is, with strength and with patience and with dignity," Tsarnaev said to the courtroom. "I know that there isn't enough time in the day for you to have related to us everything. I also wish that far more people had a chance to get up there, but I took them from you."
O'Toole's decision upheld a jury recommendation from May 15 for Tsarnaev to be sentenced to death for the bombings that killed three and injured more than 260. Prior to determining punishment, the same jury found Tsarnaev guilty of 30 charges, 17 of which carried the death penalty. The charges dealt with the marathon bombings and the violence that followed in the days after, including the death of Massachusetts Institute of Technology Police Officer Sean Collier.
Though he initially pled not guilty to all charges, Tsarnaev took the opportunity Wednesday to rid the court of any "lingering doubt" that he was guilty.
"Let there be no more," he said. "I did do it along with my brother."
Tsarnaev thanked his defense team, who he said made his life "very easy" during the last two years. After affirming that he worships Allah, he said he has prayed to Allah to have mercy on the deceased and their families.
"Allah says in the Qur'an that with every hardship, there is relief," he said. "I pray for your relief, for your healing, for your well-being, for your strength."
In a statement delivered prior to Tsarnaev's formal sentencing, O'Toole spoke about Tsarnaev's multiple references to religion.
"Surely someone who believes that God smiles on and rewards the deliberate killing and maiming of innocents believes in a cruel god," O'Toole said. "That is not, it cannot be, the god of Islam. Anyone who has been led to believe otherwise has been maliciously and willfully deceived."
O'Toole then turned to Tsarnaev, telling him the evil done will be remembered whenever his name is mentioned.
"No one will remember that your teachers were fond of you. No one will mention that your friends found you funny and fun to be with. No one will say you were a talented athlete or that you displayed compassion in being a Best Buddy or that you showed more respect to your women friends than your male peers did," O'Toole said. "What will be remembered is that you murdered and maimed innocent people and that you did it willfully and intentionally. You did it on purpose."
Following his statement, O'Toole formally sentenced Tsarnaev to death, with consecutive life imprisonment sentences for most of the non-capital counts. Tsarnaev has also been ordered to pay restitution to the victims in amounts that will be determined by Sept. 22.
If they choose to do so, Tsarnaev's defense team has 14 days to file an appeal.
Earlier in the day, the court heard from 24 victims. While some addressed Tsarnaev directly, others directed their comments to the court at large, speaking about the financial, professional and personal challenges they have faced since April 2013.
Carol Downing, whose two daughters were injured during the bombings while waiting for her to cross the finish line, said she feels like an "invisible victim" because she was not physically injured. Scott Weisberg, a 45-year-old family physician from Birmingham, Alabama, now wears hearing aids and can no longer perform regular duties for his job, such as using a stethoscope. And Heather Abbott said she continues to deal with the financial hardship that comes from paying out-of-pocket for prosthetic legs that can cost as much as $70,000.
Rebekah Gregory, whose leg was amputated as a result of the bombings, was the last victim to deliver a statement. Wearing a blue dress and yellow necklace, the colors of the Boston Marathon finish line, she told Tsarnaev all he did was unify people and make them stronger.
"I, Rebekah Gregory, vow with the rest of my life to use the platform I've been given to change the world for the better in honor of the people who weren't as lucky that day," she said.
Prior to coming to court Wednesday, Gregory asked her 7-year-old son what he would say to Tsarnaev, and she said he told her, "You made us stronger."
"We are Boston strong, we are America strong, and choosing to mess with us was a terrible idea," she said. "So how's that for your victim impact statement?"