Boston University men's hockey center Jack Eichel has signed a three-year, entry-level deal with the Buffalo Sabres of the National Hockey League, the Sabres announced on Wednesday afternoon.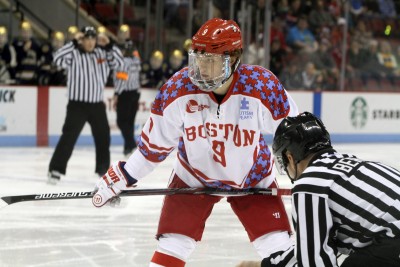 With the pro deal, Eichel will forgo his three remaining years of eligibility with the Boston University men's hockey team.
"I'd like to thank the Boston University family for everything that they have done for me. This past season has been one of the best years of my life," Eichel said in a release from BU Athletics. "I'd like to especially thank Coach Quinn and his staff, all of the equipment and medical personnel, my teammates, my academic advisors and the entire athletic department."
"I'm looking forward to starting the next chapter in my life with the Buffalo Sabres but I will always be indebted to BU."
Buffalo drafted Eichel second overall in the 2015 NHL Draft on Friday, making him the second-highest BU player drafted in history after Eichel's historic 2014-15 campaign with the Terriers.
"My staff and I would like to congratulate Jack on taking another step towards his ultimate goal of playing in the National Hockey League," said Terrier head coach David Quinn in the BU release. "Despite playing here for just one year, his contributions both on and off the ice were immeasurable. We wish him and his family the best of luck."
Eichel posted 71 points in 40 games for the Terriers during his freshman campaign, leading the nation in that category as well as points per game (1.77), assists (45) and plus-minus (plus-51).
The center's feats were acknowledged all throughout the season, as he was named both Hockey East Rookie of the Year and Player of the Year in addition to earning First-Team All-American honors and being named NCAA Rookie of the Year.
Eichel was also selected to the All-Hockey East first team, the All-Hockey East rookie team and the All-Hockey East Tournament Team, where he was the MVP of the conference tournament as well.
To cap off a superb season, the North Chelmsford native was the second freshman ever to win the Hobey Baker Award after Paul Kariya did so for the University of Maine in 1992-93.