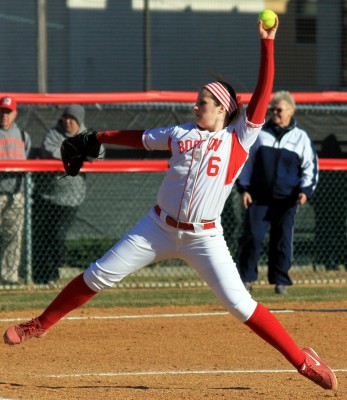 The search for the seventh coach in the history of the Boston University softball team has finally come to a close. Amesbury native Ashley Waters will take over the Terriers come spring, according to a Tuesday announcement from BU director of athletics Drew Marrochello.
"I am excited to join the Boston University community, to work with the student-athletes and to maintain and elevate the softball program's tradition of success," Waters said in a BU athletics release. "I am honored to be a Terrier."
This news comes on the heels of a disappointing 2015 season for the Terriers, who, despite high expectations, finished with a 17-27 record last year. Head coach Kathryn Gleason stepped down in May following three seasons at the helm. She compiled a 74-74-1 career record at BU, and during the 2014 season she helped lead the team to a Patriot League championship title.
For her part, Waters — a former America East Player and Scholar-Athlete of the Year — spent the last three seasons as an assistant at Harvard University. Throughout the majority of her time with the Crimson, she coordinated infield and hitting instruction, in addition to recruiting. Harvard earned 73 victories during her time with the team, along with an impressive 14-3-1 Ivy League record during the 2014 campaign.
Before learning under Harvard head coach Jenny Allard, the Ivy League's longest softball tenured coach, Waters served as an assistant coach for the Charmers Under-18 Gold team in Shelton, Connecticut from 2011 to 2012. There, she helped with player development, recruitment and the organization of practices. She was the head coach and administrative coordinator for the Wicked U18 team based in Newtown,Connecticut, for two years prior to joining the Charmers.
Waters got her start as an assistant with her alma mater, the University of Maine, in 2009 after graduating.
From 2006 to 2009, she had a noteworthy career with the Maine Black Bears, earning many conference and national honors during her time there. Among other accolades, the two-time team captain earned America East All-Conference First Team honors in her junior and senior seasons as well as conference Player of the Year honors in 2008, compiling a .352 average with 10 home runs and 30 RBIs. Additionally, she was a four-time National Fastpitch Coaches Association Academic All-American and America East Commissioner's Academic Honor Roll member.
"When we conduct a search for a head coach, we are focused on finding the right fit for not just our team, but for BU," Marrochello said in the release. "And for every category we identified — providing our students with a top-notch experience, supporting the academic pursuits of students attending a prestigious university, competing at the highest level nationally and understanding the softball landscape in Massachusetts and the Northeast — Ashley checked every box."