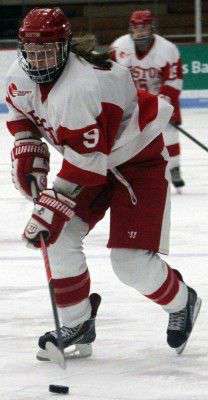 Every afternoon in Ormstown, Quebec, was the same. After school, once she'd finished her homework, Sarah Lefort would head to the rink in the park across the street from her house and play hockey for hours. When it was time to go back inside, she went to bed, only to wake up in the morning and do it all over again.
Growing up in a province like Quebec that, according to Lefort, really values hockey, provided the Boston University women's hockey winger with a great environment to foster her love of the game. The rising senior started skating at age three, though the hockey stick wasn't regularly in her hand until she hit four. Before she made the rink a habit, Lefort and her cohorts had to improvise, playing in the street.
All that practice, no matter the terrain, has helped her grow into the player she is today: a powerful scoring winger who is a viable threat both at the netmouth and the circle. When she comes into the zone alone, her legs churn on the ice, her strides purposeful and deliberate. She kicks her right leg out behind her and, when the time is right, she fires a snappy wrister on net. If she's on the doorstep, the goals don't always look as pretty, but they come all the same.
Her reliability in all three zones of the ice makes her a regular on both the power play and penalty kill, earning praise from her coach, Brian Durocher.
"She's obviously a fantastic power wing," he said. "Not that she doesn't have hands or a great skill set, but she really is a kid who plays hard on the wall, plays hard up and down the wing, plays hard at the front of the net, shoots the puck extremely well, again always brings her assertive play to every single game, but put her in that type of category with the highest compliments and some of the best scoring abilities."
Lefort came into BU and made an impact almost immediately as a rookie, tallying 43 total points over 37 games, good for fourth on the team. Her 1.16 points per game ranked third among NCAA freshmen, her seven game-winners was fourth best nationally and her 24 goals, one of which was a power play marker during the national title game, led all rookies. That total also matched the program record for goals by a freshman, set by Lefort's linemate Marie-Philip Poulin during the 2010-11 season. For her efforts, Lefort was unanimously named to the Hockey East All-Rookie Team.
With 55 total points as a sophomore, Lefort didn't slow down. Not only did the forward lead the nation with 32 goals, she was also named a Second Team All-American, Hockey East Player of the Year, a top-10 finalist for the Patty Kazmaier Memorial Award and the New England Division I Women's Player of the Year.
She followed up with a junior year to remember, recording 50 points on 23 goals and 27 helpers, second on the team to Poulin. Appearing in all 37 games for the Terriers, Lefort had a hand in 12 of BU's 25 wins, offering 10 assists and a pair of goals. She led the nation in hat tricks too as she netted three, including two back-to-back on Feb. 14 and 16 against Providence College. In BU's first regular season game of the year, she hit her 100th career point, becoming the eighth player in program history to do so, and now has a cumulative scoring line of 79-69-148 in 112 games. Lefort was also named to the Hockey East All-Academic Team for players who maintained a grade point average of 3.0 and above in the year.
It's no doubt that she's piecing together a collegiate tenure to be proud of, readying for her final campaign in scarlet and white as an assistant captain. It's going to be a big one, she said.
That's her main focus coming into the season, though there's been a new development in Lefort's career. On June 20, she was selected eighth overall in the second round of the inaugural National Women's Hockey League Draft by the Buffalo Beauts. Lefort hadn't been following the draft that day and learned she had been chosen from a friend.
"One of my friends actually texted me and said, 'You got drafted before me,'" she mused with a laugh.
Founded by former Northeastern University forward Dani Rylan, the NWHL will hold its first ever season in 2015-16 with 18 games for each team — nine at home and nine on the road. Besides Buffalo, the league contains the Boston Pride, Connecticut Whale and New York Riveters.
"This is an amazing opportunity for women to continue to play a game they love," Beauts general manager Linda Mroz said in an email. "And for cities with teams, they will have an opportunity to watch these women play high-caliber hockey and not have to wait four years for the Olympics. The women get to keep playing. I think it's amazing that they will not have to hang the skates up or settle."
But for Lefort, hockey isn't the only thing in store for the future. She wants to play the game until she can't anymore, but the winger has plans to go to graduate school and pursue something in the medical field. She's been thinking about dentistry.
The path Lefort has in front of her is one that many women's college hockey players face. The NHL, its affiliates and even alternative foreign options like the Russia-based Kontinental Hockey League all scoop up men's players after school, or at least they have the option to. For women, the choices are few and far between. There is an occasional case of a woman playing in a men's league — Hockey Canada goalie Shannon Szabados suits up for the Columbus Cottonmouths of the Southern Professional Hockey League, former University of Minnesota goaltender Noora Räty signed a contract with Kiekko Vantaa of the Mestis League in Finland and USA Hockey forward Hilary Knight practiced with the Anaheim Ducks — but overall, options are limited.
Until this year, the most notable possibility for women's hockey players was the Canadian Women's Hockey League. Comprised of five teams, four in Canada and one in the U.S., the CWHL is centrally funded and provides each of its teams with equal access to funding. That does not include player salaries, though, and many players end up having to supply their own equipment in addition to working a separate, sometimes full-time job simultaneously.
What the NWHL is trying to accomplish is to provide players with a part time job through which they'll get paid and to provide all of their gear. Teams are given a $270,000 salary cap, which equates to an average of $15,000 per player each year if everyone on the 18-woman roster is given the same contract. Similar to the NHL, though, clubs are not required to give each player the same amount of money and can balance the books how they choose.
"Women's hockey has come such a long way since the days of the pioneers," Mroz said. "We still have roads to travel, but what [Rylan] is doing, paving the way for future dreams of young girls to come true, is unbelievable. As for the league, it is only going to grow."
Lefort noted that any opportunity to lengthen someone's career and give them a place to play after school is huge for the growth of the game. In her eyes, any effort is a positive one. She said both leagues, the NWHL and its Canadian predecessor, are great and give players options going forward while they also attend school and look for jobs.
But having two leagues in two of the biggest countries for women's hockey might set the sport up for a bit of a divide. Durocher said the key to cultivating women's hockey is to have the CWHL and NWHL end up working together instead of butting heads.
"All of a sudden two leagues could come divided here in logistics and who's supporting what, and that's not good," he said. "We're too small of an entity to have that get in the way, but that would be my big concern is are they going to be compatible. Are they going to be able to work together, or are they going to be in essence competing against each other?
"It's probably not going to be easy," Durocher added. "It's the two lead countries in the game working together versus potentially working against each other [to] protect their own entity, and that's the thing that's not going to help the game."
What will help the game is the exact reason these leagues have come about in the first place, why the founders of the CWHL and Rylan worked so hard to give at least these choices to women, especially those in it for their whole lives.
"It's really going to come down to the love of the game and a lot of us cherish that moment for as long as we can," Lefort said. "This provides the opportunity to do so, so it's great."