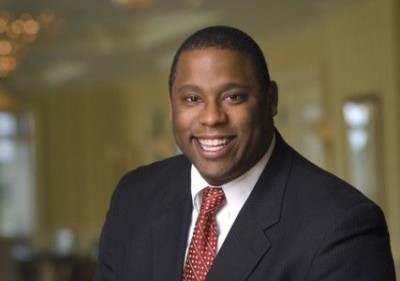 Boston City Councilor Tito Jackson held a press conference Monday on the steps of City Hall to call for a subpoena for Boston 2024 to release two un-redacted chapters from its original bid.
Jackson wrote to Boston 2024 CEO Richard Davey on July 13 asking him to release chapters five and six of Bid 1.0, which covers political support and budget. Davey declined in a letter Friday.
"I am disappointed that Boston 2024, a group of individuals who no one has elected, would make financial promises, commitments and speculations on behalf of the city of Boston and have the audacity to tell us it is none of our business, look at Bid 2.0 because that is the most current," Jackson said. "Sorry Boston 2024, you don't get to tell our body, our city or our constituents what to do, when to do it and how."
Under Massachusetts general law, the Boston City Council has the power to subpoena documents, Jackson said. Davey is called to appear before the Council's Special Committee on 2024 Olympics on August 13 to provide the chapters, a Monday summons states.
The Cambridge City Council also plans to subpoena Boston 2024 for chapters five and six of the first bid.
Jackson said transparency, especially with financial information, is needed to determine what is best for the city.
"We deserve and demand full knowledge of what those promises are, and in particular, what the promises that are in the winning bid, Bid 1.0, specifically those that are financial and relate to city planning," Jackson said.
While Jackson said he is not against the Olympic bid, he said money that would go toward the games could "overrun" current and future investment in education, housing, economic development and public safety.
"We deserve to know how these promises will affect Boston today and tomorrow," Jackson said. "We've worked daily for a Boston that meets the needs of all residents, especially those who are underserved."
Jackson said the council has been "a body of disclosure" and hopes his colleagues will back the subpoena.
"The budget that we're talking about here is more than $14 billion that people are asking our city government and the people of the city of Boston to provide a guarantee for," Jackson said. "We need to see the financials and we need to see the amount and without that I can't fathom how you can support this bid."