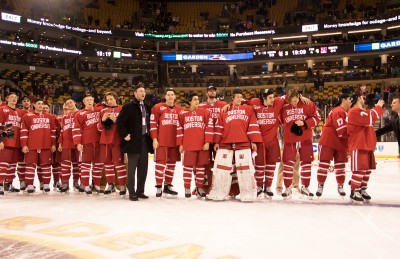 The departure of former associate head coach Steve Greeley to the New York Rangers in mid-August left a hole to be filled in the Boston University men's hockey coaching staff.
On Wednesday, BU announced that assistant coach Albie O'Connell will take Greeley's spot, and director of hockey operations Scott Young will be promoted to assistant coach.
Both coaches have histories with the Terriers, as they donned scarlet and white jerseys through their college careers. O'Connell played for BU from 1995 to 1999 and captained the team during his senior season, while Young took the ice during the 1985-86 and 1986-87 seasons before departing for the NHL.
After years apart, the two were reunited with BU last April when they were named to the coaching staff for a more-than-successful 2014-15 season that saw a Beanpot Tournament win, a Hockey East Tournament and regular season title and the Terriers' first trip to the Frozen Four since 2009.
"It's great to have two guys working here who love BU the way they do," head coach David Quinn said in a release from BU Athletics. "This university has been a big part of their lives and I know they will make a very positive impact on our student-athletes in all aspects of life."
Prior to returning to BU, O'Connell served as an assistant coach around the region, including stints with Harvard University (2011-14), Northeastern University (2008-11), Merrimack College(2007-08), College of the Holy Cross (2006-07) and Niagara University (2004-06).
And though his title has changed, O'Connell said his role and responsibilities will remain largely the same.
"It's nice to be recognized in a different title, but at the end of the day, my job's still to recruit, to coach, so it hasn't changed much, but it's nice to get recognized," he said.
O'Connell added that his primary goals both when he first joined the staff and now include representing the program well and trying to find the best student athletes that fit in with the culture that head coach David Quinn has instilled. He said he tries to field the best team with quality kids, quality players and quality students, as well as help with player development, "whether it be in the mornings with extra work, or on the ice during practice, or on the bench, or in between periods."
"Our job is to make our head coach's job easier and be a good sounding board and give good information that's sometimes used, sometimes isn't, but it just gives different voices," O'Connell said.
Those different voices are important to the environment of the coaching staff because, according to O'Connell, everyone works very closely with one another and everyone's "pretty equal."
"We try to decide as a group what we're trying to do, but at the end of the day, it's the decision of the head coach, of what he wants to do and we support that and facilitate it," he said.
Young is stepping into a newer role in terms of hockey at BU. With a 17-year NHL career, two Stanley Cup championships, three Olympic appearances and two seasons with the Terriers under his belt, his resume is rich in playing experience. But coaching is not unfamiliar to the ex-forward by any means.
From 2010-14, Young served as head coach of the boys' varsity hockey team at St. Mark's School in Southborough, which he had attended before arriving on Commonwealth Avenue for the first time. He helped guide the Winged Lions to three winning seasons, including their first back-to-back winning campaigns in 12 years.
And while he wasn't behind the bench for his alma mater's New England Preparatory School Athletic Conference championship this past season, Young was responsible for much of the team that took the ice to win it.
O'Connell's role is pretty much the same, as he said, but for Young, there's a whole new facet of the team that he gets to be involved in, and that's what he's most excited for.
"I loved my job last year and just really enjoyed being with the staff and with the team, but it had its limitations," he said. "And as far as player interaction and coaching abilities, that wasn't part of the job, it wasn't a coaching job. I had input, but I couldn't coach the players directly so this is, to me, is exciting.
"My role's increased and I really look forward to being able to recruit, to be able to travel and watch players and be able to be more involved with our players."
Now Young can run drills and be more involved with more than what just happens behind the scenes. He said he had as much input as the other coaches regarding team film and preparation for games, echoing O'Connell's sentiments, but now he can also provide input on recruits.
"Last year, I would always hear from our associate head coach and assistant coach about players that we were recruiting, but I couldn't go watch them, so now I'll have the input of being able to go watch players and bring that back to the office and bring that back to Coach Quinn."
O'Connell also offered his support for Young in his new position.
"I think Scotty will do great," O'Connell said. "I shared an office with him for the past year, he's a great guy, he's got a good way about him. I think he's got immediate respect with his knowledge of the game and his playing career and his coaching career."
O'Connell said that, as Young is 144th on the all-time NHL goal-scoring list, he knows his way around the net. That gives the Terriers an added boost when it comes to working with the forwards.
"He sees things maybe a little bit differently," he said. "From a forward perspective, he scored a lot of goals in his day and I think he'll be very good at helping our forwards and our team get better."
Young was also originally reported to be Greeley's successor, per Jeff Cox of SB Nation, but some hiccups along the way made that difficult. Mike McMahon of College Hockey News tweeted Wednesday that there was a "small hurdle with [the administration], not major" in that Young left BU early, so he did not earn a degree.
But Young said that he didn't think that had ever been the plan.
"I don't think that was the way it was going to work," he said. "That wasn't how we had planned it, or how Coach Quinn had planned it. Albie was going to move into that position and I was moving into Albie's position."