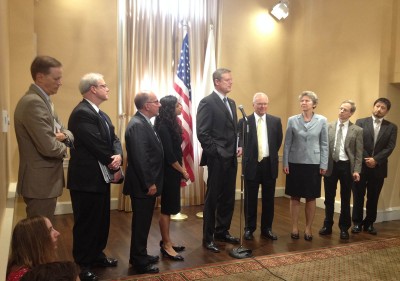 Massachusetts Gov. Charlie Baker met with leadership from the Massachusetts Medical Society and deans from the four Greater Boston-area medical schools Wednesday to talk about opportunities to collaborate and address opioid medication misuse.
"We had a series of discussions about the practice of managing pain and addiction in the community," Baker said at a Wednesday press conference. "I view this as something multi-factorial and multi-disciplinary. There is no single silver bullet. I'm grateful that we are going to have some very important leaders in the healthcare education world working with us on this."
Providing doctors with additional training on opioids was part of the set of 65 recommendations released in June by the Governor's Opioid Addiction Working Group.
Massachusetts Department of Public Health Commissioner Monica Bharel outlined the focus of the group's efforts, which covered drug abstinence, instruction and the "core competencies" of future doctors.
"As we look at the governor's opioid working group recommendations, there is a focus on prevention, intervention, treatment and recovery," Bharel said. "When we look at prevention, we speak about education. When we talk about education, we mean education for patients, consumers, parents, coaches but also healthcare professionals."
Former Massachusetts Gov. Deval Patrick declared opioid abuse a public health emergency in March 2014.
Bharel also touched on the medical school curriculum and the core competencies focusing on appropriate pain management, safe medication prescriptions and screening for early signs of addiction.
"Today, we started with our four fine medical schools in the Commonwealth of Massachusetts to talk with them about how we can agree on some core competencies of how we educate our future doctors so that they have this responsibility of providing pain relief and balancing that with safe prescribing and public safety," Bharel said.
Dennis Dimitri, president of the MMS, has worked with opioid prescription for years. The society has put together guidelines for practicing physicians, but not necessarily physicians-in-training.
"We were extremely pleased when Commissioner Bharel called us up to work with the Department of Public Health in terms of bringing together the deans of the medical schools to address this issue at the front end of medical education," Dimitri said.
Karen Antman, dean of Boston University School of Medicine, said the opportunity to collaborate is not only welcomed by the medical schools, but also held to the highest importance.
"We are very enthusiastic about working with this collaboration. I believe this needs to be inter-professional," Antman said. "We need to include dentists, nurses and we also have to have it at multiple levels — medical students, residents and attending physicians."
Todd Griswold, the director of medical student education in psychiatry at Harvard Medical School, said the initiative will move curriculum away from textbooks and closer to hands-on opportunities.
"This is a fantastic initiative to have the medical schools working together," Griswold said. "It's crucially important as we discussed to work with residents and attendings at the other clinical settings in which medical students learn how to practice and how to prescribe. Not just from lectures or online modules, but in the clinical settings when working with patients."
The medical professionals are working to help those like Felicienne Beda, 50, of Cambridge, who knows firsthand about the importance of ethical practice and prescription. In her job as a walker for those with mental illness, she saw patients on opioids who were overprescribed, addicted or going through withdrawal.
"There is a terrible side affect. Whenever [patients] take a lot of medication, sometimes people go off. I heard one of the residents killed a walker two years ago," she said. "I'm sure people abuse medication and drugs and will abuse them again just because they're free. But everyone pays for the consequences."
Dean Papademetriou, 54, of Back Bay, said that the city is doing a good thing by bringing in medical and academic expertise. Doctors should be held responsible for restricting opioid prescriptions, he said.
"It's great to have other opinions and expertise involved," he said. "It has become a medical issue so doctors need to be instructed on how to prescribe it more carefully. Now that people are addicted, they need to use a medical model."