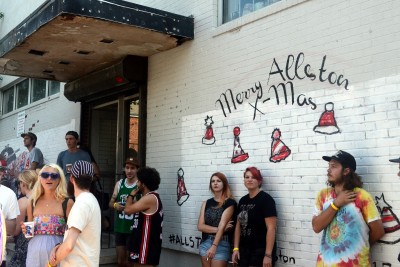 Promoting culture, community and creativity, Do617 and Allston Village Main Streets hosted an outdoor public festival Monday to celebrate Allston Christmas. The Allston Christmas Block Party, held in the neighborhood's brand new POP Allston venue, invited residents from across Boston to celebrate the "holiday" by showcasing the installments inside the building and providing live concert performances from local acts like Michael Christmas and refreshments from Roxy's Grilled Cheese and Pabst Blue Ribbon.
Sept. 1 marks the unofficial holiday of residents filtering in and out of residences as leases begin or end. Allston Christmas gives a cheery identity to an otherwise stressful period of moving, and is generally celebrated with residents scouring the sidewalks for furniture thrown out by those who are moving out. The block party familiarized new residents to Allston's unique culture while still unveiling new elements to community members as both groups settled in.
Chris Trott, field marketing representative at Pabst Brewing Company, collaborated with Do617 and POP Allston from the first day of planning. The coordinators were surprised that an official gathering centered on the strange tradition had never been done before.
"Allston Christmas is one of the most unique holidays in the country," Trott said. "I don't think anybody outside of this area knows about it that well, but I think 60 percent of the housing market moved in and out of their apartment this week alone. We saw it as an immediate opportunity to give back to the area that had to deal with moving trucks for the better part of the last two weeks. Everyone is moved in and glad to be back in the city … so let's just have a party."
The coordinators and sponsors' representatives met weekly to bring the large-scale block party to life, Trott said. He emphasized the collaborative nature of these meetings. PBR, Roxy's Grilled Cheese, Red Bull and Polar Beverages provided the refreshments while Allston Pudding, Thync and Converse helped keep the party free to the public.
"Do617 has been interested in hosting an event of this scale in Allston for quite some time now," said Alana Olsen, executive director of Allston Village Main Streets. "When we started talking, we had this opportunity to collaborate and partner with POP Allston. The event came together fairly quickly and we're incredibly excited about the caliber of vendors that we've been able to attract for this community event in this really cool community space."
As an employee of Pabst Brewing Company, Trott saw the block party as an opportunity to promote the branding of the company.
"We like to work with specific platforms from our branding point of view," he said. "Those are the arts. It's the culture and lifestyle of the community, and it's spanning as many creative aspects as possible."
The Allston Christmas Block Party doubled as a launch for POP Allston, billed as a pop-up community creative space. Permanent fixtures in the schedule for POP Allston include classes from the Yoga Hub, a multi-vendor vintage retail market every Saturday, a DIY bike shop by CommonWheels Bicycle Collective and the sculpture group Individual Art Collective. An indoor skate park called the Orchard Conservatory Skatepark comprises the second and third story of the building.
Yoga Hub founder Ali Singer introduced herself to POP Allston wanting to advocate collaboration while comprehensively learning yoga alongside others.
"It's a tradition that has been passed down like that historically, and this provides a venue to test that out as a business," she said. "It's good being in a community space with other businesses that don't function on a full-time schedule. It allows our community to come together."
Brian Reid, a volunteer at the party, identified himself as a frequenter of Orchard Skate Shop. However, he was also intrigued by the opportunity to expand on his extracurricular interests.
"The yoga is sick," he said. "As a skateboarder, I want to do that. It's extending my physical activity. There is a skate park upstairs, so they had us come up and help out for a bit. There are no indoor skate parks in Boston, so all of the kids that live … downtown don't have anywhere to go when it snows or when it gets too cold. They finally have somewhere to go."
The collaboration between POP Allston and Boston residents remains after the block party came to a close, as the spirit of the community space relies on the continued support of individuals exploring new avenues of expression.
"It's incredibly important at this time for everyone to support this notion of the creative economy," Olsen said. "Allowing people to try new things … is an incredible opportunity at this space. POP Allston is the first of its kind. Places like POP Allston will ultimately be the breeding ground for that sort of creative entrepreneurial spirit, and we're just so excited that we can make this one here in Allston and make it so reflective of the vibrant culture and community."