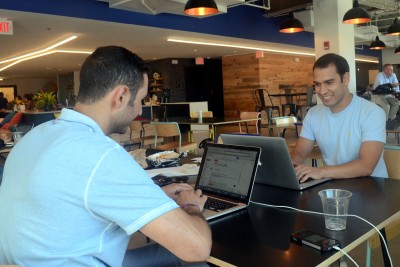 To join a school club is to be connected not only to the student and faculty at Boston University, but potentially to a network of similar companies throughout the city as well.
Though BU's more than 450 student organizations often occupy a number of physical and online platforms across campus, their p­­­­­resence beyond Commonwealth Avenue isn't as strong as it could be, said Adam Rosen, co-founder and chief operating officer of Door of Clubs.
Door of Clubs, a startup launched Sept. 3 by Rosen, Oscar-Wyett Moore and Pranam Lipinski, aims to bridge the gap between student organizations and outside companies.
"Right now, we are just a platform that makes it easier for clubs and these students to get connected to these companies," said Rosen, a graduate of Endicott College. "We're all about in-person and face-to-face, so we want to bring these two together so these companies can talk to these clubs about what they do and really, more importantly, why they do it."
Door of Clubs offers student groups free access to its partnered companies, which include Pandora, Spotify and Venmo. The off-campus companies in the program have three membership options — a transaction fee-only package, a $79-per-month package or a $1,000-per-month package, each with different thresholds for connecting with students and broadcasting their work.
Once the companies are connected, collaboration can begin.
Companies and clubs have the opportunity to communicate through in-person meetings, video calls or custom events, such as hackathons. Companies can also sponsor student clubs and support their activities, whether they occur on campus or miles away.
Ultimately, the collaboration is a chance for student groups to learn about outside opportunities and for local companies to meet budding professionals, Rosen said.
Though students aren't guaranteed to land jobs or internships as a result of the partnership, Rosen hopes Door of Clubs will increase students' chances.
"We realized that there is a very targeted group of students that are highly motivated, highly passionate and are kind of that upper level within a lot of these schools, and those are students that are part of clubs and organizations," Rosen said.
The relationship-building platform has more than 200 clubs signed on from more than 90 different universities in the U.S. and Canada. The only BU group to register so far is the undergraduate chapter of Net Impact, which uses business platforms to solve problems in the environment.
An estimated 25 percent of the clubs involved focus on women and minorities in specific fields of study, Rosen said.
Though not limited to diversity clubs, creating a relationship between companies and those specific groups is, as Rosen put it, "a big portion of what we're doing."
Rebecca Sanders-DeMott, coordinator of BU's Women in Science and Engineering residential program, said a program like Door of Clubs could offer women a motivation to stay actively involved in student clubs, as they see their post-college opportunities increase through the company collaboration.
Sanders-DeMott, a doctoral candidate at BU, added that helping women find success in science and technology fields requires an exerted effort from a young age.
"Along every step of the academic pathway, we're losing women from science for a number of reasons, so it's really important to get them early on," she said. "But it's also important to be encouraging along the way."
Ricki Pierce, a junior in the College of Arts and Sciences, said she would feel more incentive to join an academic club if she knew it had strong connections to outside companies.
"I would feel like there would be more meaning behind me joining clubs," she said.
Kelly Lyons, a senior in the College of Communication and the president of BU's AdClub, said she is optimistic about what the company could do for students in organizations.
"There are so many people who are looking for ways to network, and not everyone has those connections through people who they already know," Lyons said. "It's great to have this platform, so they can make these things easier."
Rosen said that's his hope — making it easier for students to succeed.
"In a couple years, we just want to have a couple 100,000 student clubs in all different types of fields," he said. "Any club that is looking to get connected to companies, we want them to be a part of the community because we really feel like it can benefit them in a lot of different ways."