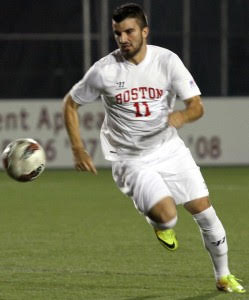 The Boston University men's soccer team will look to make it two wins in a row Sunday when they face off against the University of Massachusetts-Amherst in the first match of a quick two-game road trip.
The Terriers (2-1), with a revamped roster this season, have played solid soccer to begin the year. Losing their leading scorer from a season ago, Dominique Badji, to Major League Soccer would be a major blow to most teams, but BU coach Neil Roberts, now in his 31st season with the Terriers, knows how to get the most out of his players.
Badji is not the only key contributor to have graduated last spring. Stellar goalkeeper Nick Thomson and midfielder Jordan Barker, who was second on the team in points last year with 13, are two other notable losses.
Another significant loss to last year's regular season Patriot League champs is the reigning Patriot League Rookie of the Year, defender Bjarki Benediktsson. He transferred to Canisius College in Buffalo, New York, after a standout first season during which he helped lead the Terriers to nine shutouts.
BU is finding offense from a number of different places early in the season, one of which is junior forward Felix De Bona, who leads the team in both points (7) and goals (3).
The Somerville native has stepped up his play this season in a major way. Having only tallied 13 points during his freshman and sophomore campaigns combined, he is already more than halfway to that total through three games in 2015.
"This is what we always expected from him," Roberts said. "He's a goal-scorer, and he's probably fitter now than he's ever been. His overall game is better, he's holding the ball better and he's more active."
Most recently, it was De Bona who scored the only goal in BU's 1-0 victory against Siena College Tuesday night at Nickerson Field.
"Once we start getting services in to [De Bona] on a regular basis, I think you'll see him score some goals," Roberts said.
Sophomore midfielders Anthony Viteri, who transferred this season from St. John's University, and David Amirani assisted on the lone goal of the evening. Both second-year distributors have helped to formulate the Terriers' offensive identity early in the season.
Also key to Tuesday's victory was the play of junior goalkeeper Matt Gilbert in net. He has big shoes to fill following Thomson, but has played well to start the season. The shutout against the Saints (0-2-2) marked the seventh of his career.
"He's in a tough situation because we have such a new defense and really a new midfield, so collectively it's difficult back there for the first couple games," Roberts said. "I think it was better the other night. He's doing well. It's just not as organized as we'd like in our defensive end of the field, but he's going to be fine."
The Minutemen (0-4), on the other hand, are heading in the opposite direction compared to the Terriers. They have not put together a winning season since 2008, and the team has lost a total of 28 games over the past two seasons.
UMass coach Fran O'Leary is currently in his first season at the helm, and like BU, his team is in search of an identity on both sides of the ball after losing its leading scorer, forward Josh Schwartz, who had 15 points last year.
The Minutemen have struggled to put the ball in the net thus far this year, with a mere one goal scored in four games.
They netted their first point of the season in their previous contest against Central Connecticut State University, but allowed five goals in the contest en route to a loss. Forward Lenoir Sery scored in the 65th minute with his team already down by three goals, but look for the senior to take on a leadership role this season after tallying just three points in 2014.
Forward Alex DeSantis, who assisted on the Minutemen's only goal thus far, will also be a player to watch going forward.
Before taking on the Terriers, UMass travels to Albany, New York Thursday to take on the University at Albany.
Roberts noted that if the Terriers want to string together some more wins, it all starts as a group effort.
"We have to keep the ball better like we did last night, especially in the first half," Roberts said. "We have to make individual plays, but it's collectively that we have to do a good job, and I think we did a better job yesterday than we have all season so that's another good sign for us."