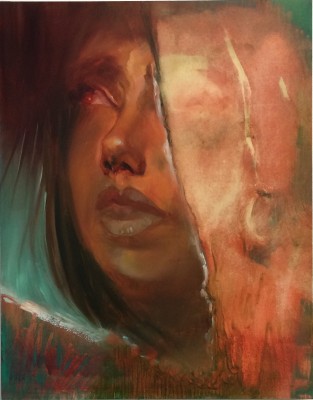 Managing director Joshua Buckno and artistic director Lynne Cooney of the Boston University Art Galleries are pleased to welcome the new semester with the exhibitions "A Call for Peace" and "Unquenchable Thirst," both of which open Friday and deliver personal and unique perspectives of the human experience.
As part of the 70th anniversary of the bombings of Hiroshima and Nagasaki during World War II, "A Call for Peace" seeks to commemorate and honor those who were physically and emotionally affected by the tragedy. Six of the 15 panels painted by Nobel Peace Prize nominees Iri and Toshi Maruki will be displayed in BU's Stone Gallery.
"It was [the artists'] personal reaction to the bombing, very personal," Buckno said. "You can see kind of an evolution of how someone would think about such a horrific act."
Over the course of 30 years, the married couple recollected the tragic bombings, instilling their memories in paint on canvas. The paintings have been shown in over 20 nations worldwide and were the subject of the Academy Award-nominated documentary "Hellfire: A Journey from Hiroshima."
The panels on display at the Stone Gallery include darker coloring, blurred images and exposed bodies. Figures such as doctors and children can be made out, but they mesh together to emphasize the harshness of the situation. Despite the great length of time that has passed since the bombings, Buckno believes that the panels are still just as relevant today.
"I think the imagery still feels very fresh and powerful," he said. "As much as it is about the bombings of Hiroshima, there [are still concerns] of nuclear disarmaments and nuclear bombings. It still resonates after all these years."
Cooney believes in the current relevance of "Unquenchable Thirst," as well. The solo exhibit at the Sherman Gallery portrays gender identities by painter Ariel Freiberg.
"If you look in contemporary media, constructions of beauty are still very much dictated by fashion magazines and a very Western idealization of beauty … the perfect lip, the perfect eye," Cooney said. "[Freiberg] is interested in taking those images, or those perceived ideas of beauty, and kind of obscuring them."
Freiberg holds a Master of Fine Arts degree in painting from BU's College of Fine Arts. In addition to showcases at BU, her work has also been on display in the Miller Yezerski Gallery, the Montserrat College of Art, the Harmon Gallery and art galleries at Tufts University.
Freiberg spoke of her background involving identity conflicts and of having a family with a history of displacement. She expressed her feelings of a "longing and sustained desire for [a] place that one can never go back to." She defines this concept as an "unquenchable thirst," or a desire to fulfill that longing as well as to explicate "the irreconcilability between the exterior and interior."
Freiberg's paintings depict an interest in exploring feminine tropes and narratives, highlighting the faces of women.
"Faces are a symmetrical space," she said. "[A face] is the first thing we connect to as human beings when we're born into this world. I'm interested in the asymmetry of existence. We have … this idealized frame in mind when it comes to faces."
Both "Unquenchable Thirst" and "A Call for Peace" reveal a deep story behind the artists — a genuine quality that BU Art Galleries seeks to display in regards to implementing and programming each exhibit.
"We [the Art Galleries] generate a lot of our own content," Cooney said. "Internally, we [Josh and I] are both very in touch with the contemporary art world. I think we're both just trying to keep our eye out and create exhibitions that are timely and interesting, but something that might not be seen elsewhere."
"A Call for Peace" will be on display at the Stone Gallery from Sept. 11 to Oct. 18. "Unquenchable Thirst" will be featured in the Sherman Gallery from Sept. 11 to Oct. 25.