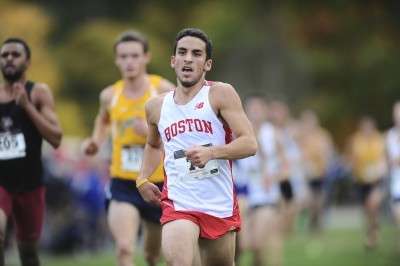 The Boston University men's and women's cross country teams will kick off their 2015 season Saturday when they take to the course at Bryant University in Smithfield, Rhode Island, for the Nassaney Invitational.
Both squads are entering the season with lofty expectations, particularly in the context of their 2014 finishes and consequent Patriot League preseason expectations for this year.
The men's team has been selected to finish third in the conference, with its 124 points placing it just behind the United States Naval Academy and the United States Military Academy. The service academies finished first and second in the preseason poll, respectively.
The men's team compiled an impressive 2014 season, as it finished 12th at the NCAA Northeast Regional meet. Led by coach Bruce Lehane, the team placed five runners among the top 100 participants at the meet, and also placed second among the four Patriot League teams competing.
While several members of last year's team have since departed by way of graduation, the Terriers are returning four of their top five point producers from last year. The most notable is senior Alec Olson, who was an All-Patriot League performer in 2014. Outside of Olson, senior Kevin Thomas, senior Paul Gennaro and junior Mitch Russo all return and will surely be looking to improve on their times.
Meanwhile, similarly high expectations accompany the women's program ahead of the Nassaney Invitational. The two-time defending conference champions have been chosen to finish second in the Patriot League in 2015, with their 151 points placing them just one point behind only preseason favorites Bucknell University.
Driving BU's lofty projection is the return of junior Sarah Saccoach and senior Shelby Stableford, who finished sixth and ninth, respectively, in last year's Patriot League Championship. The aforementioned duo also helped the Terriers finish 13th at the NCAA Women's Cross Country Northeast Regionals.
Lehane will lean heavily on the veteran presences of Saccoach and Stableford, as one of the program's most decorated runners graduated last year, Rosa Moriello, who paced the Terriers in 2014 by finishing 13th at Regionals, graduated.
At last year's Nassaney Invitational, the men's team finished second, while the women's team commandingly won the meet.
Considering all of that, the Terriers have set the bar high for themselves ahead of this weekend's season opener. If history and predictions are any indication, the Terrier runners should enjoy success and start the year on a positive note.