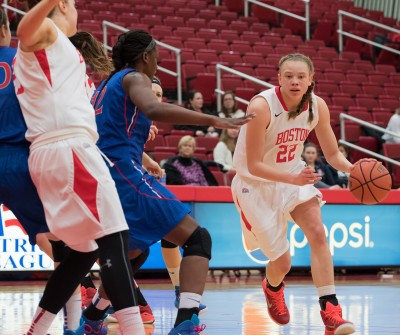 The Boston University women's basketball team unveiled its 2015-16 schedule in an announcement Thursday, highlighted by nine non-conference games against New England rivals.
Second-year BU coach Katy Steding has a new opportunity in this new season after her inaugural campaign at the helm fell short of expectations. The Terriers struggled throughout the 2014-15 season to find a sense of rhythm, and despite starting the season 3-3, the team lost 22 of its final 24 games.
BU is only losing one key player from a season ago, as forward Mollie McKendrick has graduated from BU. With the addition of a strong freshman corps, plus a full season from junior guard Sarah Hope, who tore her ACL midway through last season, BU should remain competitive this year.
This year's 29-game schedule includes six non-conference home games, two of which pit the Terriers against crosstown rivals Boston College and Northeastern University. Other opponents include two 2014-15 NCAA tournament teams (University at Albany-SUNY and American University), as well as 13 opponents who finished last season with 14 or more victories.
"We have a really competitive schedule this year and we're looking forward to starting the season," Steding said in a BU Athletics press release. "It's always fun to play against our local rivals including Northeastern, BC and Harvard [University]. And we're excited about bringing top-quality opponents like Marist [College] and Albany to The Roof."
The Terriers open the regular season with three games at The Roof, the first being a tilt against the Huskies on Nov. 13. Following that game, BU welcomes defending America East title-holders Albany and BC.
Another game to look out for on this year's schedule is a matchup against the University of Massachusetts Lowell on Dec. 1, which is the first contest between the River Hawks and the Terriers in the NCAA era dating back to 1981.
This year's Patriot League looks to be more competitive than in years past, as the conference enters the 2015-16 season ranked as the 18th toughest women's basketball conference out of 32 Division I leagues in the country. This is due to the fact that six Patriot League schools rank inside the RPI top-200.
"The Patriot League is a very challenging conference and we are excited about the schedule this year," Steding said. "The Patriot League continues to demonstrate that we are a conference that can compete with the top programs in the country, and we are ready for the challenge of conference play."