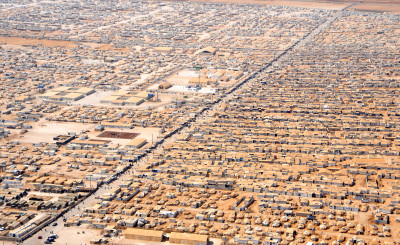 Massachusetts Gov. Charlie Baker remains receptive to opening the Commonwealth in light of U.S. President Barack Obama's decision to resettle at least 10,000 Syrian refugees within the United States this year.
Approximately 4 million Syrian refugees have left their country, according to an estimate by the U.S. State Department, and another 12 million are considered internally displaced because of the country's ongoing civil war that began over four years ago.
"This is obviously a global issue and a human crisis where the United States should be part of the solution but I certainly think if it were to come to this there needs to be a conversation about how it's going to work and what people's expectations are," Baker said in a Thursday statement.
Baker did not say definitively whether Massachusetts would accept Syrian refugees, and deferred to the government to navigate measures of planning and resettlement.
"This is the sort of thing where the federal government needs to take the lead role a bit, and they certainly know more than most about the issues associated with how you would triage, process and manage something like this because that's an important part of the front door," Baker said. "But I certainly think the U.S. ought to be part of the solution and believe most states would want to be helpful if they could be."
With its commitment to resettle 10,000 refugees, the United States will join the European Union as it scrambles to accommodate millions of displaced people, said Sandro Galea, dean of the Boston University School of Public Health.
"Though the migrant crisis has been raging for years it has received little coverage in the international news media," Galea said.
This is changing as wealthy countries like Germany begin to see more activity along their borders, he said.
"America is country of immigrants," Galea said. "America has thrived by accepting immigrants and refugees. We have a moral responsibility as a wealthy country to help refugees who really are fleeing life-threatening conditions."
Denis Sullivan, a professor of international affairs at Northeastern University whose field research focuses on refugee communities in the Balkans and the Middle East, said he is critical of how the U.S. government has handled refugee resettlement.
"Germany alone is expected to host over 800,000 refugees this year. Can they handle it? Well, they're Germany, they'll handle it. But why should Germany have to handle that many? Why not spread these [refugees] around?" he said. "Why aren't we saying over the next five years we'll take 100,000 people. We can resettle them all over the U.S. There are always states in need of labor."
Serena Parekh, a professor of philosophy at Northeastern, said less than 1 percent of the world's refugees are ever permanently resettled. It can be difficult to obtain official refugee status through the U.N. High Commission of Refugees under the strict parameters of the Geneva Accords, and as a result many spend their lives in overcrowded, underfunded refugee camps, she said.
"The Syrian crisis is interesting because it is the largest displacement of people from a situation of war in decades," Parekh said. "It's been going on for four years, and we have done virtually nothing in terms of resettling refugees. Really when you think about it, 10,000 seems like a lot. But, it's really four years too late, totally unsystematic and totally insignificant to the scale of the problem."
Several residents felt that Baker would be doing the right thing if he welcomed the refugees into Massachusetts.
Trisha Sweeney, 33, of Back Bay, said Massachusetts should be open to helping others.
"Obviously there's been a lot about this in the news recently. It's really interesting that the refugees would come here," she said. "Baker should be open to it. I mean obviously there's a need for it and we should be willing to help."
Richard Zano, 61, of West End, said refugees need some place to go and there is no reason it should not be Massachusetts.
"That's good, we did say we would accept refugees into the United States and Massachusetts is a good place for them to go," he said. They have to have places to go and this could be one of them."
Janet Bass, 42, of Brighton, said she doesn't see why Massachusetts shouldn't house refugees.
"That would be a helpful thing" she said. "These refugees need someplace to go, so why not Massachusetts? If the United States is willing to accept them, then Baker should be too."