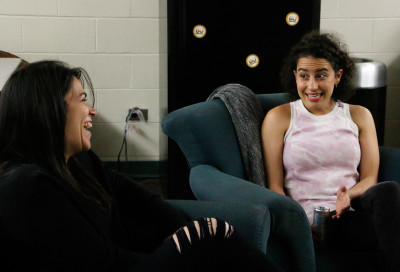 On any given episode of Comedy Central's critically-adored series "Broad City," New Yorker protagonists Abbi Abrams and Ilana Wexler are totally in sync. They people watch in Central Park, partake in often calamitous escapades and giggle over a joint while sharing stories from their mundane day jobs.
After two full seasons of misadventures to which countless twentysomethings can relate, the real Abbi and Ilana — Abbi Jacobson and Ilana Glazer — came to Boston University on Saturday for "Broad U," a moderated discussion that was a part of BU Student Activities Office's Weeks of Welcome.
In real life, the two were just as in sync as they appear on the show. They simultaneously popped open cans of Red Bull, leaned back in their chairs and effortlessly finished each other's sentences. But the characters on the show aren't mere portraits of Abbi and Ilana before they had careers — they are just snapshots of what their lives would have been like if comedy hadn't been in the picture.
"I think it's fun and important for us to separate the characters we are on the show and who we are in real life," Jacobson said. "They are very similar, but also extremely different from us. It really depends on the scene. There are moments, especially during this season, where we're taking it to more of an emotional level where we're definitely acting."
Broad City came to be when the two met at the Upright Citizens Brigade Theatre, an improvisational comedy school in New York founded by, among others, renowned comedians Matt Besser, Amy Poehler, Ian Roberts and Matt Walsh. After years of attempts to break into the New York improv scene via one of the theater's competitive "house teams," the two decided to start something new.
"Not getting on the house team is what made Abbi and I start Broad City [as a YouTube series]," Glazer said. "We did Broad City so we could send our parents a link to proof of what we were doing. We had parties at the end of each season to celebrate that it had happened. For the second one, we asked Amy Poehler to be in the finale. We didn't know her, but there was that kinship. That started our working relationship."
After Poehler became an executive producer and Comedy Central picked up their pilot script, the first season became wildly successful — it earned a 98 percent "Certified Fresh" rating on Rotten Tomatoes and was deemed "deeply weird, weirdly sweet and completely hilarious comedy" by Entertainment Weekly.
"The finale of the first season upped our game," Glazer said. "We had collaborators for that finale and our friend T.J. Misny was like, 'We have to put in serious money for this.' We had been doing it as frugally as possible before. It was cool to have a friend … who was like, 'If we want to do this, we have to throw down.'"
In addition to this support, Jacobson attributed the show's growing success to the small group of writers who make it relatable, specific and honest.
"CBS, NBC, ABC — they're trying to do a broad thing," Glazer said. "It's a mixture that lands on an average voice. Comedy Central let this show be so specifically what it is, with the people who so specifically write it. You get to feel based on our comedy. You know what we laughed at because we included it and made a moment."
Not all shows are equal in that sense, but according to Glazer, Comedy Central caters to the voice "Broad City" speaks with.
"It's pretty much written by four people," Jacobson said. "That's why you're getting this very specific, focused voice. It is our very specific view of what it's like to be in New York with people you actually really care about in your twenties."
Although the female protagonists drive the plot, Glazer said that the specific writing and detailed stories are what make the show so relatable to fans, not their gender.
"People are people, babe," she said.
And as the two prepared to head to Metcalf Hall for the sold-out discussion, Glazer hoped the fan-sourced questions wouldn't touch on that particular topic.
"Anything about female comedy," she said. "[I] f—ing hate that s–t."