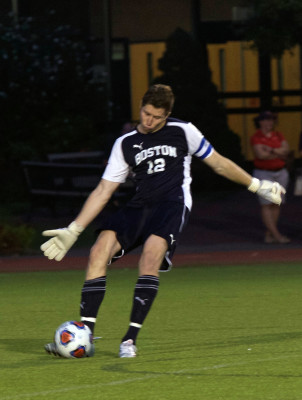 The Boston University men's soccer team is off to a solid start to the 2015 campaign, and the team owes much of its early success to junior goalkeeper Matt Gilbert. On a team with a number of fresh faces, BU coach Neil Roberts has turned to the veteran out of Madison, New Jersey, for leadership, and he has responded.
The Terriers (3-1) have won three of their first four contests, including the last two, during which Gilbert has only allowed one goal. He has already made 16 saves on the year, and boasts a 1.24 goals against average.
As a redshirt freshman in 2013, Gilbert started in 15 games, tallying six shutouts while finishing second in the Patriot League in saves per game with 4.47. He did not see any action last season behind Patriot League Scholar-Athlete of the Year Nick Thomson, who had a stellar senior campaign, but this year Gilbert is back and excited to reclaim his starting role.
Matt Gilbert is much more than just saves and statistics, though, and The Daily Free Press sat down with him to learn more about BU's standout goalkeeper.
What are your personal goals for this season? 
"I just really care about the wins this year. I think getting as many wins as we possibly can this year is my personal goal. Obviously I don't want to let in any goals, but if we win a game 4-3, look, we got the W, that's what we need. I think going forward we want as many wins as we can possibly get, 15 is the goal right now, so hopefully we can get to that."
How's the dynamic of this team different from last year's? 
"Last year's team had a lot of senior leadership. This year there are a lot of younger guys. We brought in 15 guys this offseason so it's a much younger locker room, but at the same time I think we brought the family aspect back from last year. I think we have a very tight knit group which is great." 
I've seen you playing pickup basketball at FitRec a bunch of times. Do you think you'd be playing college hoops if you weren't playing soccer? 
"I don't know … I'd like to think so. Basketball has always been one of my first loves. I just love playing pickup, and I'm friends with all the guys on the [men's basketball] team so maybe I would be. But soccer is my number one goal right now."
What is your best advice for a young soccer player? 
"Definitely just work hard. You can't work hard enough. And stay confident. I think the biggest thing, especially as a goalie, is you have to have a short memory. When something goes wrong you have to take that mistake, put it in your back pocket, and learn from it, but you always have to stay confident and trust your skills."
Did you do anything special this offseason in preparation of reclaiming your starting role? 
"I trained with our strength and conditioning coach Vinnie Calautti every day at like 6 a.m., and I also trained with a local team, the Boston Rams, this summer, so it got me fit and ready to play this season."
If there were a movie about your life, who would play you? 
"I would go ahead and say Michael Cera, or a lot of people reference me to Linguini in 'Ratatouille,' the chef."
Favorite guilty pleasure song? 
"Probably 'SexyBack' by Justin Timberlake. That's a great song."
"Definitely 'Superbad.'"
"So that would have to be Jonah Hill of course. He's a really funny guy."
Who's the team prankster? 
"That's a tough one. I might have to go with [senior forward] Lucas McBride. You always have to watch out for that kid. He's always sneaky."
Do you have any special pregame rituals? 
"I listen to the same eight [or] nine songs before every game, same order. It's about a 40-minute playlist and I just listen to it every time."
"Recently actually, coming out of these doors for the Terrier Tailgate and seeing that crowd of 7,000-plus. I don't know if I'll ever experience anything like that in my life, and I was glad to experience it."
What's one interesting thing most people don't know about Roberts? 
"Neil's just such a great guy. He's the father figure of the team and you can go to him with literally any problem you have — school, soccer, family-related. He really understands that kind of father mentality."
How about something most people don't know about you? 
"I'm big into the stock market and investments. I really want to be a funds manager one day, and I think that's probably one thing people don't know about me is that I really take my studies seriously and I follow the stock market every day. It's basically like a game to me and it's a lot of fun."
If you could meet any athlete, who would it be?
"Definitely [U.S. National Team goalkeeper] Tim Howard. He's got one of the best mentalities as a soccer player, as a goalie. He has Tourette syndrome, and I've read his book. He just seems like a great guy on and off the pitch, and he demands a lot from his players."
If you could meet anyone from history — dead or alive — who would it be? 
"There's so many good people in history, maybe Abraham Lincoln to be honest with you. He was the 16th president, and he did a lot of progressive things for slavery and to kind of change the whole way we think about the North versus South. And he was Honest Abe. Just a good guy."
What do you want to do for a career? 
"I'm a finance major and a psychology minor, and I really want be a portfolio manager one day and get into investment management."
What do you like to do in your free time? 
"Well you mentioned basketball before. I like to play basketball as much as possible. I'm also a big FIFA player. I think everybody on the team loves FIFA because it's just our game being played in video game form so we have tournaments all the time. FIFA's definitely a big one for us."
Coolest place you've ever been? 
"I went to the World Cup in 2010 in South Africa with my dad, and I saw four games. Probably about six of the eight teams that I saw were the best at the time, and it was just an unbelievable atmosphere with all the vuvuzelas and everything. It was ridiculous."
Best place to eat on BU campus? 
"I think I've given so much money to T. Anthony's, it's not even funny. T. Anthony's is a great spot just to hang out. You can get the jukebox going, and it's great fun with the team."