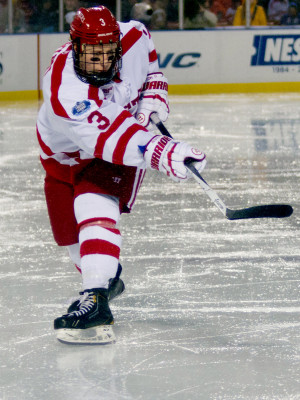 T.J. Ryan admits he felt invincible. As a member of the Boston University hockey team, and throughout his entire hockey career, he always wore a full cage mask, as opposed to opting for a half-visor. Behind that guise, nothing could go wrong, could it?
It did. After sustaining several concussions throughout two seasons, Ryan has decided to untie his skates one final time and bring his hockey career to an end before his junior year. He retires from the program filled with pride, though, and with the full support of his teammates and coaches.
After BU's Beanpot consolation game against Harvard University in February 2014, Ryan called his father on the bus ride home and said, "I don't feel good. I need to come home."
That phone call was just the beginning. Several more concussions followed over the span of the next year-and-a-half. He missed the next four games after the Beanpot, then was benched again in a game against Northeastern University later that month with concussion-like symptoms.
He never came back earlier than he was ready, he said, and trusted the decisions of the team's medical staff. He underwent all the proper tests, and rested as much as he needed.
But the problem lingered. Ryan was shut down for the 2014-15 season after sustaining another head injury on Jan. 10 in a game against the University of Wisconsin. After feeling healthy again, he resumed summer training. But in a summer league game a month ago, he became concussed once more.
"I bumped into somebody," Ryan said. "We collided, it wasn't even a hit. That's when I realized that I've reached the tipping point.
"My head, it's not capable of taking hits anymore."
Ryan finished his BU career with one goal and two assists in 27 total games.
He's been around BU hockey his entire life. His father, Tom, is a radio broadcaster for the team and was roommates with current Terrier head coach David Quinn when the two attended BU between 1984 and 1988. T.J. has been attending games since he was four years old, traveling across the country with his father.
Ryan attended Newton North High School, opting to go the public school route, unlike many NCAA-bound hockey players. He never focused solely on hockey — he also excelled in golf and lacrosse. Hockey was the primary passion, however.
Upon graduation in 2011, Ryan played two seasons for the South Shore Kings of the Eastern Junior Hockey League. At one point during his junior hockey career, he played for two-and-a-half weeks with a broken ankle.
He joined the BU hockey team as a walk-on prior to the 2013-14 season.
"His ultimate goal in hockey was to play BU hockey," Tom said. "He proved a lot of people wrong. And most importantly, earned his way there. Nothing was ever given to him."
It wasn't the easiest decision to depart the team he always dreamed of playing for, and the game he always loved, T.J. said.
"It's just tough to stop doing something you've done your entire life," he said.
But it was the right choice.
In NCAA men's ice hockey, concussions occur at a rate of 1.47 per 1,000 playing hours logged and account for 9 percent of injuries in the sport, according to a 2010 study. Several college hockey players have had to miss significant time due to head injuries: Amanda Kessel, who plays for the University of Minnesota, gave up the remainder of her NCAA eligibility due to a concussion. More locally, Colin Blackwell of Harvard University missed the 2013-14 season and withdrew from school for a semester to focus on concussion recovery.
Concussions have become an increasingly prominent issue across all sports. And as the problem is brought more into a public light, science and recovery options fail to keep up at the same speed. As Ryan said: "There's no real way to know."
Ryan suggests that the game has simply gotten faster and players have gotten stronger. He also posits that while a visor increases the chances of losing teeth, it increases awareness of your surroundings and doesn't give the illusion of being a complete shield, as he mentioned his cage did.
"I think if you eliminate the mask, the game would be a lot safer," Ryan said. "As far as the brain goes, it's much safer. It's more important."
Ryan, who is studying economics, plans to finish his BU degree. He also plans to continue attending BU games, just as he has his entire life.
"It's been the best two years of my life," Ryan said. "It's an awesome family to be a part of. And I'm still excited for the team this year. I'm not going to be playing, but I'll still go to every game. My best friends for life are on the team, so it's not like I'm going to be leaving entirely."
The support of Ryan's teammates, he said, has always been evident. Even in 2014-15, in BU's run to a Beanpot title, a conference championship and the national championship game, when Ryan had to watch all but three of those games from the stands, he was never excluded from the excitement.
"When you're with your teammates every day, everyone has one goal," he said. "I never really felt not a part of it."
For him, that friendship is undeniably invincible.