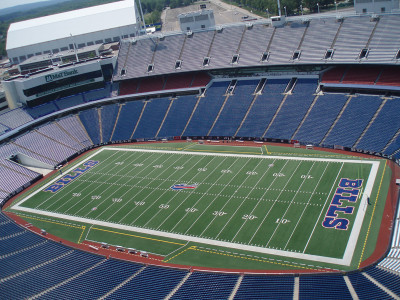 Football finally returned to the world this week as Week 1 of the NFL season kicked off Sept. 10. All 32 teams played, spanning from the New England Patriots and Pittsburgh Steelers on the Thursday Night Football to two different Monday Night Football contests. After watching an action-packed Week 1, here is what we learned about the current state of the NFL and its best and worst franchises.
New England Patriots (1-0): The defending Super Bowl Champions opened up 2015 with what appeared to be a beat down of the Pittsburgh Steelers, and for the most part they delivered. Rob Gronkowski showed he is still one of the top two tight ends in the league, new addition Scott Chandler reached the end zone in a goal-line situation and Tom Brady looked like Tom Brady. A big issue with this team is its lack of two reliable cornerbacks, which was shown by the yardage that Antonio Brown posted on second-year defensive back Malcolm Butler.
Pittsburgh Steelers (0-1): To be honest, Pittsburgh looked quite good without Le'Veon Bell and Martavis Bryant, both of whom are serving suspensions for violating the league's banned substances policy. Ben Roethlisberger looked relatively comfortable in the pocket and found Brown multiple times for some big yardage, but wasn't as effective as you would have expected him to be against a porous Patriots secondary. However, once the black and yellow get back the league's No. 2 rusher from last year, the entire AFC better look out.
Buffalo Bills (1-0): Wow. Who could have foreseen this? That the lowly Bills would not only beat the Indianapolis Colts, but that they would do it so convincingly. It actually isn't that big of a surprise, as the bully Buffalo defense was much-hyped and effectively shut down the highly-touted Colts offense. Colts head coach Chuck Pagano's defense was not up to the task, as it conceded 24 points before its offense could even muster one score. Things are looking very good in Buffalo, but let's see how their offense does against legitimate defensive teams like the Houston Texans or the Philadelphia Eagles.
Indianapolis Colts (0-1): Indy's newest additions, Frank Gore and Andre Johnson, were complete duds as they showed their age and their decreased durability throughout the course of the game. Gore suffered cramps in the Colts' 27-14 loss, while Johnson posted an underwhelming stat line of four catches for 24 yards. If things in Indianapolis are going to finally change, it needs to start with its defense. If the Colts are ever going to return to the Super Bowl, they need to adopt the mantra that "defense wins championships."
Chicago Bears (0-1): Some losses are not as demoralizing as they have been for Chicago the past few seasons. On Sunday, the Bears once again lost to the Green Bay Packers, this time by a score of 31-23, but it appeared as if "Da Bears" are trending upward. After the game, running back Matt Forte expressed that the team believes in the coaching staff and has the mental fortitude not to give up when they find themselves in a hole against a good team like Green Bay. Both of these comments show a refreshing change of pace for a Bears team that was riddled with strife under Marc Trestman last year.
Green Bay Packers (1-0): No Jordy Nelson, no problem. Quarterback Aaron Rodgers and company cruised to a win over the rival Bears, led by Eddie Lacy and James Jones.
Seattle Seahawks (0-1): The Seahawks have represented the pinnacle of success in the NFC the past two seasons, but for some reason they cannot beat the St. Louis Rams at the Edward Jones Dome. Last year, the Rams' trick plays neutralized mighty Seattle, but this season was thought to be different, as the Seahawks brought in one of the league's most formidable offensive threats: Jimmy Graham. While Graham had himself a good day for a tight end with six receptions for 51 yards and a touchdown, the use of running back Marshawn Lynch was subpar. Lynch had 18 rushing attempts and mustered 73 yards for an average of 4.1 yards per carry. Pete Carroll and company have arguably the best running back in football and, for the second straight game, did not effectively use him.
New York Jets (1-0): Stop me if you've heard this before: the New York Jets have a great defense, but an extremely mediocre quarterback. Sounds a lot like the Jets of 2009 and 2010, right? New York has the chance to rediscover the defense that carried them to two AFC Championship games. But with the aging Antonio Cromartie, who suffered a knee injury last week against the Browns, and Ryan Fitzpatrick leading the charge, I am just not sold on Gang Green.
Baltimore Ravens (0-1): Playing the Denver Broncos at Mile High Stadium is never easy, and the Ravens learned that the hard way when the Broncos defeated them, 19-13. Joe Flacco and the Baltimore offense failed to score a touchdown and only mustered two field goals. The Ravens' only trip to the end zone came off a Jimmy Smith pick-six in the third quarter. To make matters worse for Baltimore, Pro-Bowl linebacker Terrell Suggs exited the game with a torn Achilles tendon. He is out for the remainder of the season.
Denver Broncos (1-0): The last time Peyton Manning opened the season playing the Baltimore Ravens, he threw a record seven touchdown passes. This time around, he couldn't even throw one. Denver's only score came off an Aqib Talib interception return, as the Broncos kicked four field goals en route to victory. Manning had 40 pass attempts and only turned in 175 passing yards. If he continues this downward trend, the potential Hall of Famer's great career may be at its end.