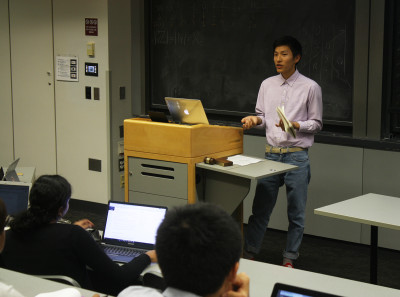 At their Senate meeting Monday night, the Boston University Student Government confirmed committee positions and moved along with their plans to expand Senate positions.
Senate confirmed College of Arts and Sciences and School of Hospitality Administration junior Kymbeerly Irizarry as director of advocacy, CAS sophomore Dan Collins as Senate vice chair and head of the rules committee and College of Communication freshmen Steve Sang and Cam McDaniel as communications committee chairs.
Additionally, College of General Studies sophomore Rachel Feigelson and Questrom School of Business sophomore Kaitlyn Murtha were confirmed as co-directors of the student life and orientation committee.
Last week, the Senate created an ad hoc committee to look into the possibility of expanding the amount of Senate chairs. The decision was made based on feedback received at a Town Hall meeting last semester, when students argued for greater representation of student groups in Senate, SG President Andrew Cho said.
"Our main discussion was around moving forward with Senate, like who gets to be in Senate [and] who gets to have a seat, because that was a big topic at the end of last semester," the CAS senior said after the meeting. "So we wanted to bring that forward right away so senators knew what the situation was before a precedent would set in and make them feel like this is the way it's always been."
The changes might not be going into effect for another year, Cho said. He said he wants to finalize the expansion plans in the fall, notify the Senate and prepare in the spring in order to see the changes go into effect in Fall 2016.
CAS sophomore Juliahna Green is chair of the ad hoc committee overseeing this process, and the first meeting will occur next week after the Senate Meeting.
Meanwhile, senators also unanimously confirmed their by-laws and constitution for the year. No changes were made to the previous version.
Near the end of the meeting, senators were invited to bring up any campus issue they wanted to bring to the attention of SG, and make a proposal for possible future change. In all, nine different points were brought up, including adding a BU Shuttle stop outside Student Village I, creating a Senate newsletter and developing the recycling program inside dorms. The open forum is a new addition to meetings this year.
"The reason why I wanted to talk about that is because in the past, Senate kind of waits for people to come to them but rather I think we should know what's important to students because we are students and we should initiate that, and not expect students to come to us first," Cho said.
Following the meeting, several senators said they look forward to undertaking fresh initiatives with SG that would benefit more students and members of the BU community.
"This year essentially we'll be pushing a lot of senators to be doing proposals of their own, so I'm expecting a lot of big changes because we have a new batch of senators coming from different places again with different views," said Stephen Chang, the Senate chair and a senior in CAS. "It'd be nice to see if they have any proposal that would benefit the whole school and we can allocate our budget out properly."
Courtney Bold, a senior in Questrom, said that focusing on communication and transparency should be SG's priority.
"Getting the word out to the student body so that they feel comfortable coming to us with initiatives so that they know who to come to when they have problems and issues [is imperative]," she said. "Our actions, our decisions and the reasons behind them should all be transparent to every student on campus."
Anish Guha, a sophomore in Questrom and the director of finance for SG, said he has hope for the new semester and all the ideas that come along with it.
"I personally would like to see a lot of proposals coming from senators get funded," he said. "In the past a lot of them have been cabinet initiatives but I really want to see student body representatives really coming out and giving new ideas, [and improving] the student body life."