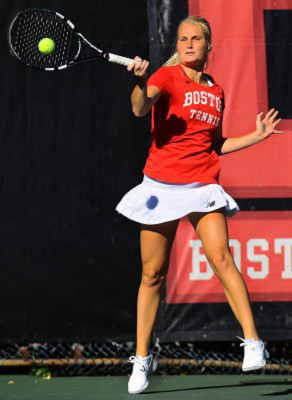 The Boston University women's tennis team kicked off its 2015-16 campaign in impressive fashion over the weekend at the three-day Harvard Fall Classic.
BU has sustained a stretch of dominance recently, having claimed back-to-back Patriot League titles behind 31-year coach Lesley Sheehan. Senior leadership should prove to be crucial to the Terriers' success going forward, with Johanna Hyoty and Lauren Davis among those leading the charge.
Both Hyoty and Davis were recently named to the Patriot League 25th Anniversary Women's Tennis Team, a significant honor, especially considering the fact that BU only entered the Patriot League two years ago.
The honors do not end there for Hyoty. The Tampere, Finland, native was the recipient of the 2015 ITA/Arthur Ashe, Jr. Sportsmanship and Leadership Award for the northeast region, and is the reigning Patriot League Scholar-Athlete of the Year.
Over the weekend, she was among four Terriers who finished with at least two victories in singles action. The others were senior Madison Craft, sophomore Iryna Kostirko and freshman Sabrina Faybyshev.
Kostirko led BU in singles action with three victories, one of which was a come-from-behind win over Boston College's Katya Vasilyev.
Hyoty followed up an opening match loss to Columbia University sophomore Rima Asatrian with a straight-sets win over the University of Connecticut and revenge against the Lions, besting Columbia's blue-chipper Star Makarome with a 6-1, 6-2 victory.
Similar to Hyoty, Faybyshev lost her first match to Columbia's other five-star blue-chip recruit, Andrea Kevakian. She followed up this loss by coasting to victories against BC's Emily Safron (6-0, 6-2) and Wake Forest University's Xue Zhang (6-3, 6-2).
Craft came back from a set down to best Yale University's Caroline Lynch, and later secured a two-set win against Lindsey Mendelson of the Lions.
Four of BU's five duos posted victories in doubles play. Davis and Faybyshev had the most impressive win against Harvard University's Erica Oosterhout and Annika Ringblom.
BU remains on the road for its next tournament, traveling to Providence, Rhode Island, for the Brown Invitational on Sept. 25-27, where it will look to build on this weekend's success.